The cult arcade FMV shooter will be gracing the 3DS in non-3D fashion.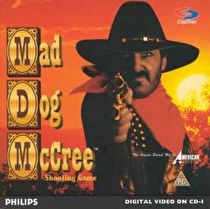 Classic FMV-based arcade title Mad Dog McCree will be coming to the 3DS's eShop soon, Ruud van de Moosdijk, VP of Development at Engine Software BV, told Nintendo World Report.
According to Moosdijk, Engine Software approached publisher Digital Leisure regarding the project. "We got in touch with them and said you know, Mad Dog McCree, you guys own the license, how about a 3DS version?"
While the game will retain the classic FMV-based gameplay of the arcade game, it will not make use of the stereoscopic visuals on the 3DS. "It's all full motion video," Moosdijk explained, "there's really no 3D in the 3DS version because how were you gonna do that?"
This isn't the first time the game has made an appearance on a Nintendo platform. The title was originally released as a Wii retail title bundled with other arcade FMV shooters like Mad Dog II: The Lost Bounty.
No release date was given, but Moosdijk said that it is coming "very soon".