3DS owners can trade AR cards with other users at the upcoming events.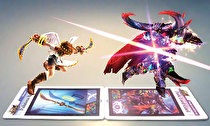 Kid Icarus events focused on AR Idol Cards will soon be taking place in North America.
During these events, players can trade, share, and obtain new cards, suggesting that promotional cards may be available alongside ones obtained from trade. Nintendo has not revealed any dates or locations for these events, though they will likely occur after the game's launch on March 23.
AR cards can be used to conduct battle between two characters in Kid Icarus: Uprising as a secondary mode. Nintendo notes that there will be no compatibility between the cards and the AR Games application on 3DS.