Even more games are set to debut on the eShop very soon.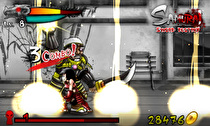 UFO Interactive Games's Samurai Sword Destiny has been given a January 5, 2012 release date.
The title is a sprite-based on-rails hack-and-slash in which players deal away with many foes in a feudal Japan setting. The characters can set up combo attacks, equip several weapons and level them up so they can unleash stronger attacks.
Samurai Sword Destiny features a 2D sprite presentation that UFO Interactive promises will look good in 3D when enabled.
A full trailer of the game has also been released: