Just jam to these eShop and DSiWare releases.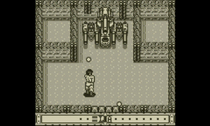 Nintendo's download game services have been updated with seven new games this week.
The 3DS eShop got two classic Game Boy games: Jaleco's Fortified Zone, a top-down shooter starring a pair of secret agents originally released in 1991 and Taito's Qix, a game in which players must capture flying lightning bolts by enclosing them in a square.
For both the eShop and DSiWare four new games have been added. The first of these is Jewel Keepers: Easter Island, a puzzle game where players line up three pieces of the same color in order to make them disappear off the board.
Make Up & Style is the second title for the eShop and DSiWare, a make up simulator in which players create a digital 3D face and use it to practice make up upon, using the stylus to apply make up and create designs.
The third game for the eShop and DSiWare is Roller Angels, a platforming game starring these roller girls. Each girl has a different ability that helps them race across the stage as well as create graffiti.
The fourth and final DSiWare and eShop game for this week is Farm Frenzy, a farm arcade simulator from Alawar Entertainment. Players must care for the animals in the most effective way possible.
Only one WiiWare game today: Just Jam. The title is a music maker where players can create live music, putting them in control of different parts of the band with the Wii Remote.