Australian street date has been broken, mostly.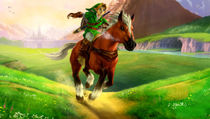 Recent circumstances have allowed Australian retailers to sell The Legend of Zelda: Ocarina of Time 3D before the official release date in Australia.
Last week Australian retailer Game Traders began selling import copies of the game from the UK. This prompted other outlets such as EB Games and JB HIFI, to announce that they would be selling stock when it arrived.
Retailers will not have stock displayed on the shelves until the official launch date on June 30, but if you go into stores and ask for the game, and it is in stock, they will likely sell it to you.