Strong demand and technical issues necessitated the extension.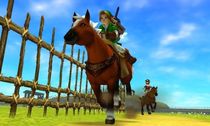 Club Nintendo will be extending their offer for fans to get the Legend of Zelda: Ocarina of Time 3D soundtrack to midnight tonight. To get the CD, members will have to register the game and complete a short survey.
Club Nintendo states "Due to strong demand and technical issues, we are extending this offer. Members who register the game by midnight, Pacific Time on Monday June 20, 2011 will receive the soundtrack CD."
The CD includes 50 tracks from the game, some that have never before released and one fully orchestrated medley specially recorded for the soundtrack.