Looks like we'll be seeing Professor Layton and the Last Specter at E3 2011.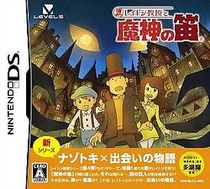 Professor Layton and the Last Specter has been trademarked by Level-5 in North America, according to Siliconera.
The fourth Layton game is a prequel that tells the story of Layton and Luke's first meeting. Originally released in 2009 in Japan under the name Professor Layton and the Specter's Flute, it also features a lengthy post-game RPG developed by Mother 3 developers Brownie Brown.
Last year, a trademark for the third Professor Layton game, Professor Layton and the Unwound Future, was uncovered shortly before E3 2010. The game was then confirmed for a fall North American launch during E3. It is very likely the same will happen for the Last Specter.