The first update for May features everything from runners to hairdressers.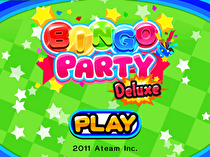 This week sees six new games throughout all of Nintendo's downloadable game services.
The WiiWare game for this week is Bingo Party Deluxe from Ateam Inc. Up to four players can participate in various game modes based around Bingo, such as 75-Ball Bingo and 90-Ball Bingo. The title can be downloaded for 500 Wii Points ($5).
WiiWare also receives a demo version of Gaijin Games' Bit.Trip Runner. The fourth game in the Bit.Trip series, Runner has players in direct control of Commander Video as he dodges enemies and obstacles through 50 levels. While the demo is free of charge, the full version is available for 800 Wii Points ($8).
Virtual Console receives its first game in weeks, Jaleco's Rival Turf!, originally for the Super NES. The game is a side-scrolling beat 'em up where players rid the streets of thugs. Single and two player modes are available. The game can be downloaded for 800 Wii Points ($8).
From Sonic Powered Co., Ltd. comes this week's first DSiWare game, Anonymous Notes Chapter 2: From The Abyss. The game is a randomly generated dungeon-based RPG where the levels are re-created after each boss is defeated. The title has been priced at 200 DSi Points ($2).
The second DSiWare title this week is Ikibago from Neko Entertainment. The 500 DSi Point ($5) action puzzle game stars a pirate who lines up barrels of the same color.
The third and final DSiWare is Picture Perfect Pocket Stylist from 505 Games US Inc. Not only can players stylize the hair of various characters, they can also take a pictures of themselves and stylize their own hair. The game can be downloaded for 500 DSi Points ($5).