Nintendo is interested in bringing Hollywood to the handheld.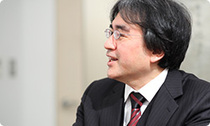 In a recent interview with Shigesato Itoi, Japanese copywriter and creator of the Mother series, Shigeru Miyamoto and Satoru Iwata sat down to discuss the Nintendo 3DS. Among other topics, the three gaming icons discussed the relevance of 3D television and movies to the new handheld.
"Simply put, people making 3D content today are having trouble because of a lack of output," noted Iwata. Iwata's solution, not surprisingly, was that the Nintendo 3DS would serve as the gateway for 3D movies into the home.The idea that the Nintendo 3DS would become a household item much faster than glasses-free 3D televisions has both Miyamoto and Iwata excited about this new kind of content.
In a discussion reminiscent of the early days of Wii Connect 24, Miyamoto postulated that the 3DS will be able to automatically download new movie trailers as the system charged overnight. Miyamoto was also excited about the prospect of 3D movies being made with the 3DS in mind, mentioning that, "recently Hollywood is taking Nintendo seriously." According to Iwata, Nintedo has been shopping the 3DS around Hollywood, and it has been met with much excitement.
Despite their confidence, Iwata did express some doubt, "I'm not really sure what will happen—how the world will take it, how it will catch on." With 3D still being unproven as a consumer product, perhaps his doubts aren't unfounded.
The entirety of the interview is available on the Nintendo website under the title: And That's How the Nintendo 3DS Was Made.