Nintendo releases new DSi bundles for Black Friday.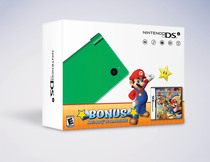 For Black Friday, green and orange Nintendo DSi bundles will be released, containing a console and a copy of Mario Party DS in the box.
The DSis will be available from November 26 at a suggested retail price of $149.99, while supplies last.
In Nintendo's announcement for the consoles, they also state that 43 million systems from the Nintendo DS family of consoles have been sold in the United States. This total is for up to the end of October 2010.