You can look forward to watching Santa fight dinosaurs again when Super Scribblenauts comes out this fall.
Today Warner Bros. Interactive announced Super Scribblenauts, the follow-up to the 2009 hit game, for release this fall.
The new game will focus on improving the formula that made the original title a million-seller, by adding improved touch screen controls and the use of adjectives to modify the objects created in the game. The use of adjectives will dramatically increase the distinct number of creations the game allows. Some examples include adding "flaming" or "flying" before a word, to completely reinvent the object or person being created. The game also supports the use of multiple adjectives per object.
Although the original Scribblenauts was well received commercially, it was widely criticized for its implementation of touch screen controls. The new game promises to fix those issues.
The original game was released in September 2009, and sold 1.1 million copies worldwide.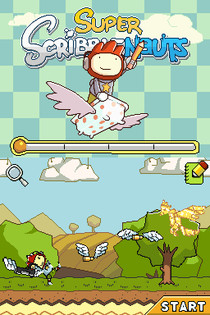 WARNER BROS. INTERACTIVE ENTERTAINMENT ANNOUNCES SUPER SCRIBBLENAUTS
THE FOLLOW-UP TO THE REVOLUTIONARY GAME FOR NINTENDO DS HAS AN OFFICIAL NAME PLUS MORE WORDS, ADJECTIVES AND LIMITLESS CREATIVE POSSIBILITIES FOR GAMERS OF ALL AGES
Warner Bros. Interactive Entertainment announces Super Scribblenauts as the title for its follow-up to the groundbreaking hit video game. In the first game, players used their imagination to write any word to bring that object to life and use it to solve puzzles. The original Scribblenauts for Nintendo DS has sold more than 1.1 million units worldwide since its launch in September 2009.
Available in autumn 2010, Super Scribblenauts for Nintendo DS expands the innovative elements from the acclaimed first title, offers upgraded controls and provides gamers with hours of original entertainment with ingenious, fun-filled new features. In Super Scribblenauts, created and developed by 5TH Cell, players use the stylus and touch screen to help Maxwell, the game's hero, acquire the "Starite," the prize earned from solving the puzzle in even more robust challenges and redesigned levels.
All-new for Super Scribblenauts, players now have the ability to write any object that comes to mind and modify it in any way they desire using adjectives to reach the goal in many levels. Adjectives can change the colour, size, style, behaviours and many other aspects of the object they are describing. Multiple adjectives can be combined together to produce incredibly creative objects, such as gentlemanly, flaming, flying zombies and purple, obese, winged elephants, allowing the player's imagination to run wild for an even more inspired and individual experience than ever before.