As we prepare for The Legend of Zelda: Tears of the Kingdom, join us as we replay the entire 3D Zelda saga.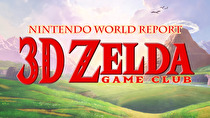 Well, the original article aged poorly as we wrote that "we're optimistic that a new 3D Zelda really will release this year (2022)." A lot of things have changed since we announced this 3D Zelda Game Club in early 2022. The sequel to the Legend of Zelda: Breath of the Wild was delayed to 2023, right around when we tackled Majora's Mask and then we went on a hiatus for months in hopes of Wind Waker or Twilight Princess getting ported to Switch. Now that we have May 12, 2023 circled and triforceangulated on our calendars, we can build out an updated plan for the 3D Zelda Game Club.
To catch you up to speed, a handful of NWR staffers will play through the games and then discuss them on the NWR Connectivity podcast. We'll have a podcast deep dive featuring die-hard fans and relative newcomers as well as a smattering of other features and content. You can join us on the NWR Discord channel to discuss each game in the series and even send in some feedback and commentary of your own.
If you want to play along you can play any version of each of these games. That means original release, Virtual Console, NSO, or remaster. If you want to stay in sync with our discussions on Connectivity, aim to complete each game based on the following schedule.
Schedule (subject to change)
Ocarina of Time Podcast Episode
Wind Waker - November 4th
Twilight Princess + Link's Crossbow Training - December
Skyward Sword - February
Breath of the Wild - April