Disney will be unveiling a major gaming initiative likely similar to Skylanders this week.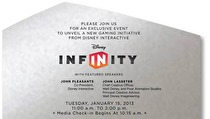 On Tuesday, Disney is set to reveal Disney Infinity, their new game franchise that has been touted as Disney's version of Skylanders. The basic concept of that is music to my ears, as Skylanders mixed with Disney characters seems like a fantastic idea.
The pervasive rumor is that Infinity will be similar to the Toy Box mode in Toy Story 3, especially since the developer of that game, Avalanche Software, is reportedly behind Infinity. In Toy Box, players controlled Toy Story characters through a variety of different environments, solving open world puzzles and exploring the nooks and crannies of various series locales. It was one of the highlights of a very competent movie tie-in game.
This rumor is backed up by a report from Polygon, which claims that Disney Infinity will be "an open-world sandbox game that combines the best of Minecraft creation with the absurdity of Just Cause's over-the-top action moments, all in a child-friendly world populated by iconic Disney and Pixar characters." Though the report from Polygon seemed to shy away from the idea of Skylanders-like figures being a part of the Infinity initiative.
A hastily taken down report from Disney fansite Stitch Kingdom contradicted that, though, as the site claimed Disney Infinity will launch with a starter pack akin to Skylanders starter packs, complete with a portal and several characters. The characters are reportedly set to be Sulley (Monsters, Inc.), Captain Jack Sparrow (Pirates of the Caribbean), and Mr. Incredible (The Incredibles). Other characters on the way include:
Mike Wazowski and Randall (Monsters, Inc.)
Hector Barbossa and Davy Jones (Pirates)
Syndrome, Mrs. Incredible, Dash, and Violet (The Incredibles)
Woody (Toy Story)
Jack Skellington (Nightmare Before Christmas)
Agent P (Phineas and Ferb)
Rapunzel (Tangled)
Anna and Ice Queen (from the 2013 animated film Frozen)
Tow Mater and Francesco Bernoulli (Cars)
Sorcerer Mickey.
In addition to the single characters, Infinity is also set to have different locations, also unlocked in a Skylanders manner, including Radiator Springs (Cars), The Lone Ranger (from the forthcoming live-action Lone Ranger movie), and Toy Story in Space.
We'll find out for sure what Disney Infinity is on Tuesday, but as of now, it looks like it will be very interesting, and could be one of the biggest gaming reveals in the next few months.