In no need of fixing.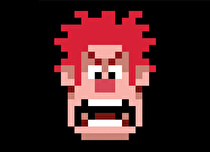 What comes to mind when you think of video game movies? Poor writing, cheesy action scenes, and an all-around terrible experience? Maybe, but this stigma doesn't apply to Wreck-it Ralph, the best animated movie you will see this year.
Set in an arcade, the story centers on gaming villain Wreck-It Ralph, who works in a fictional arcade game, Fix-It Felix Jr. His job as the bad guy involves him destroying an apartment building only to be foiled by Fix-it Felix Jr., the Mario to Ralph's Donkey Kong. Every time Felix makes it to the top of the building he wins a medal, while Ralph get thrown into a pool of mud.
Though Ralph wants to be liked, he must continue on in his sad fate of wrecking a building. Following Toy Story rules, Ralph must be a villain as Woody must be a toy. On the thirtieth anniversary of the game, a celebration is held in the apartment building. Ralph, of course, is not invited. The citizens of the building, the Nicelanders, are anything but, and treat Ralph like a monster. Felix has empathy for Ralph and lets him in to the penthouse to eat cake, only to be chastised by the Nicelanders.
When Ralph tries to change the cake to make it him on the top with the medal, he is rejected by the Nicelanders. They say he can never have a medal—only heroes get medals. This sets him on his journey to win a medal in FPS game, Hero's Duty. From there he ends up in Mario Kart-like Sugar Rush where he meets the little girl Vanellope von Schweetz, who is a cast out for being a glitch.
Its setting of different video game worlds gives the movie opportunities to make many references to real games. My personal favorite is when Ralph looks through a lost and found box and finds a Metal Gear-esque exclamation point. Each reference comes across as a pleasant homage with appearances from iconic characters and references to obscure games, odds are something you like is referenced.
However, the movie doesn't coast on its references, instead relying on strong characterization and witty writing. Many of its best moments are non-specific references to classic gaming staples like glitches and unfinished hidden areas, but you shouldn't be worried about seeing this movie with a non-gaming friend, spouse, parent etc.
The otherwise exceptional movie has some hang-ups. The world the movie spends the most time in, Sugar Rush, has a strong candy focus, and as pleasant as that setting can be, I would have rather seen one or two more to represent other genres of games. Some of the humor also felt a little too immature.
As a Disney fan, I applaud this movie for continuing the resurgence of their digital animation efforts outside Pixar. It makes for an entertaining viewing experience, and a fun interpretation of games and their history.