Zach guts his entertainment center!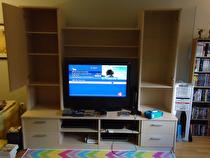 Every few years, I get it in my head that I hate my entertainment center setup. This has happened many times in the past. The last time it happened I up and bought a brand-new (on sale) entertainment center from Scan Home. You can see an image of it right here, clear of most of the stuff I had on it. Yes, this is the "in between" picture. Whereas just prior, the entertainment center had been filled to the breaking point with useless crap wedged into every open spot, I now have a far more elegant setup that it more pleasing to my critical eye. At least, it will be pleasing for a few years.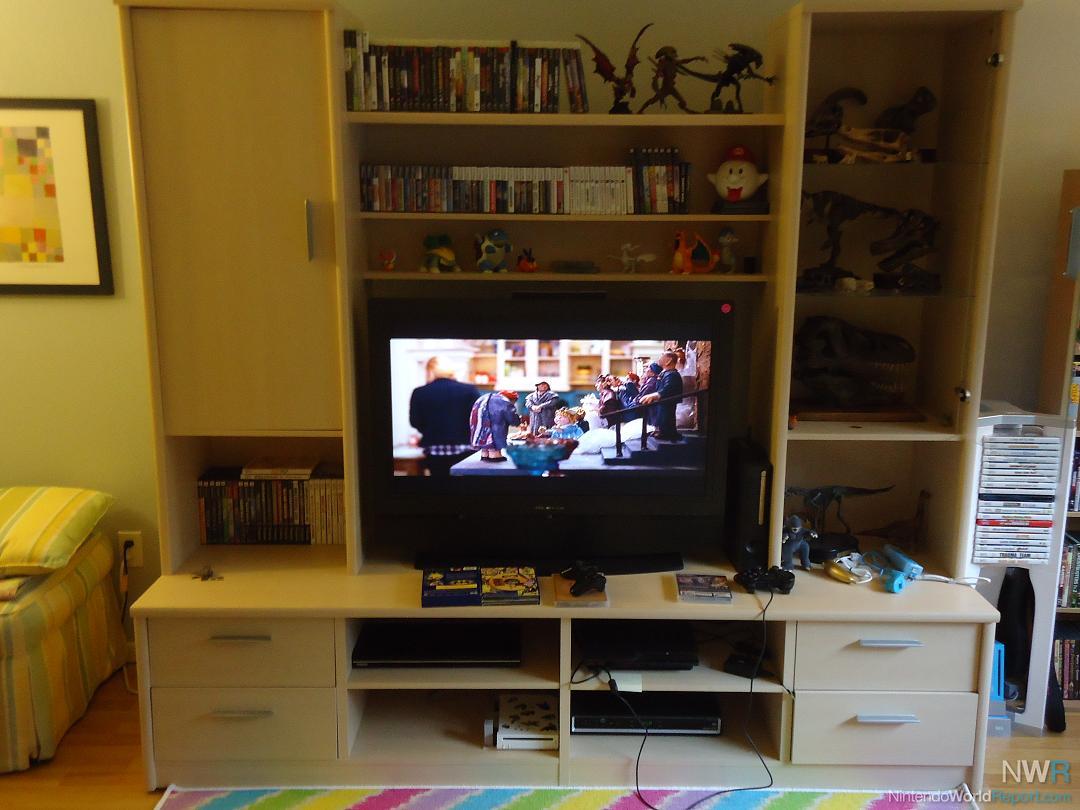 Oh, the abject horror!
As you can see, everything was just crammed in there willy-nilly, with no organizational scheme to speak of. Even the poor dinosaurs are crammed together in ways that don't make any sense. The only exception was the video games themselves, but do I really need them ALL up there? The other issue is that my Xbox 360 is sitting to the right of the television, which shoves the TV to the left and prevents SYMMETRY.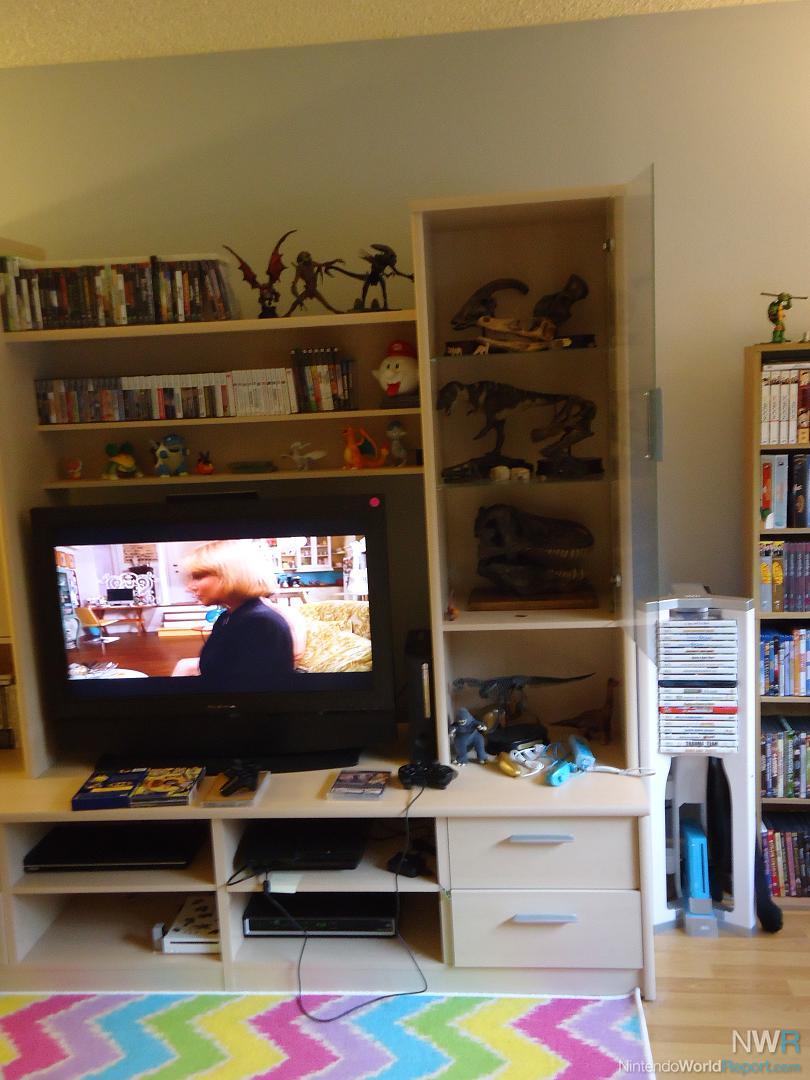 It looked so thrown-together. Really, it's a combination of my love of collecting things combined with my love of displaying stuff on this entertainment center that brought us here. We had reached a breaking point.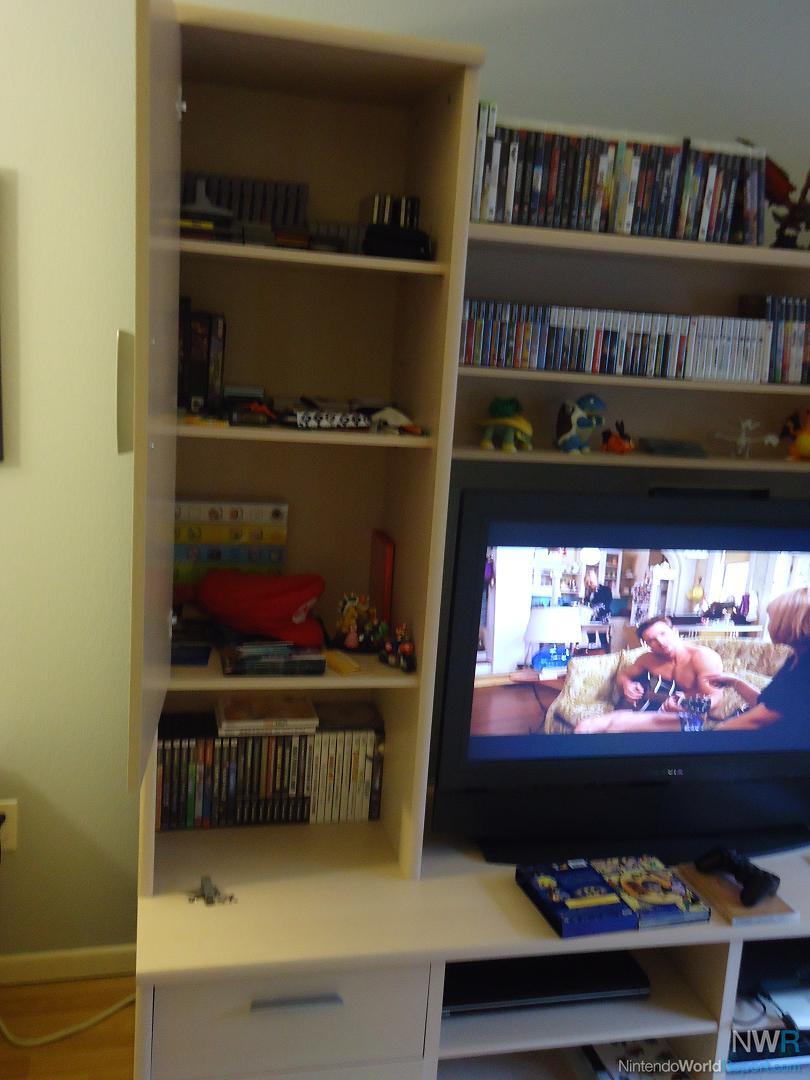 Oh, and on the right? When you opened that cabinet, you got STUFF just tossed in there seemingly at random. I'm better than this. There is a better way.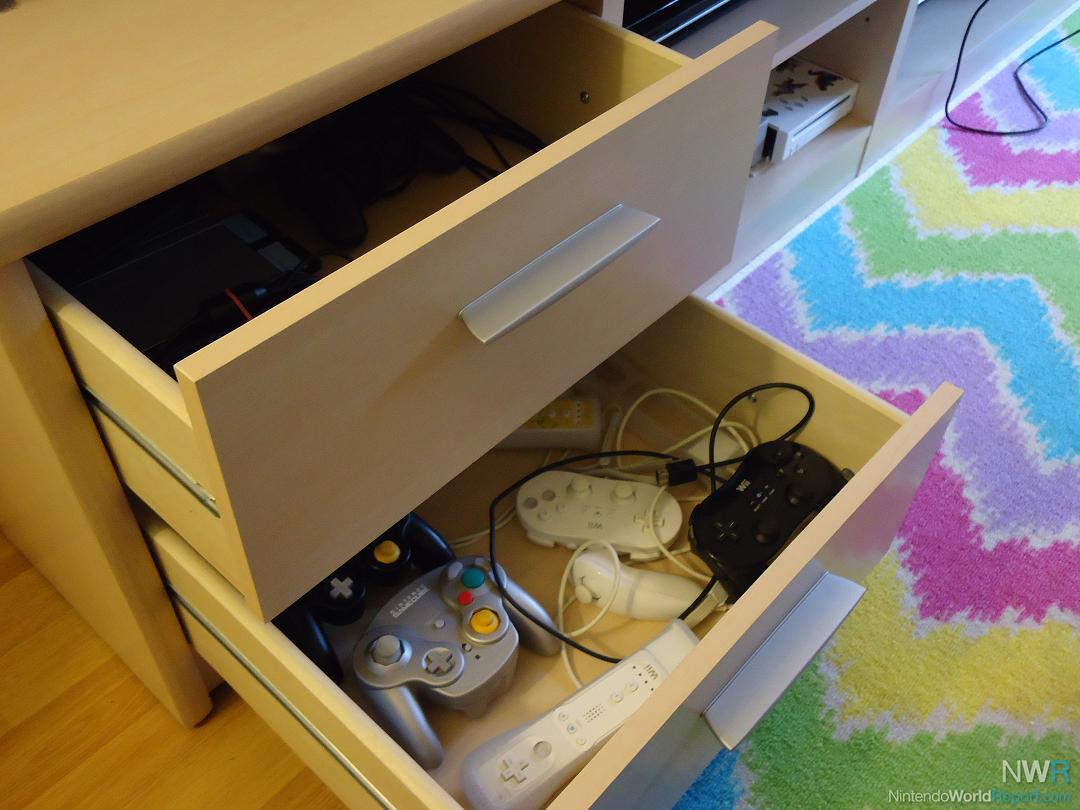 The top drawer? It housed my PS2, all of its cords, controllers and accessories. I believe some of the games were also just shoved in that drawer. Shameful! The bottom drawer was barely better--it's clearly where all my Wii accessories lived. All of them. There are tons (ED: yes).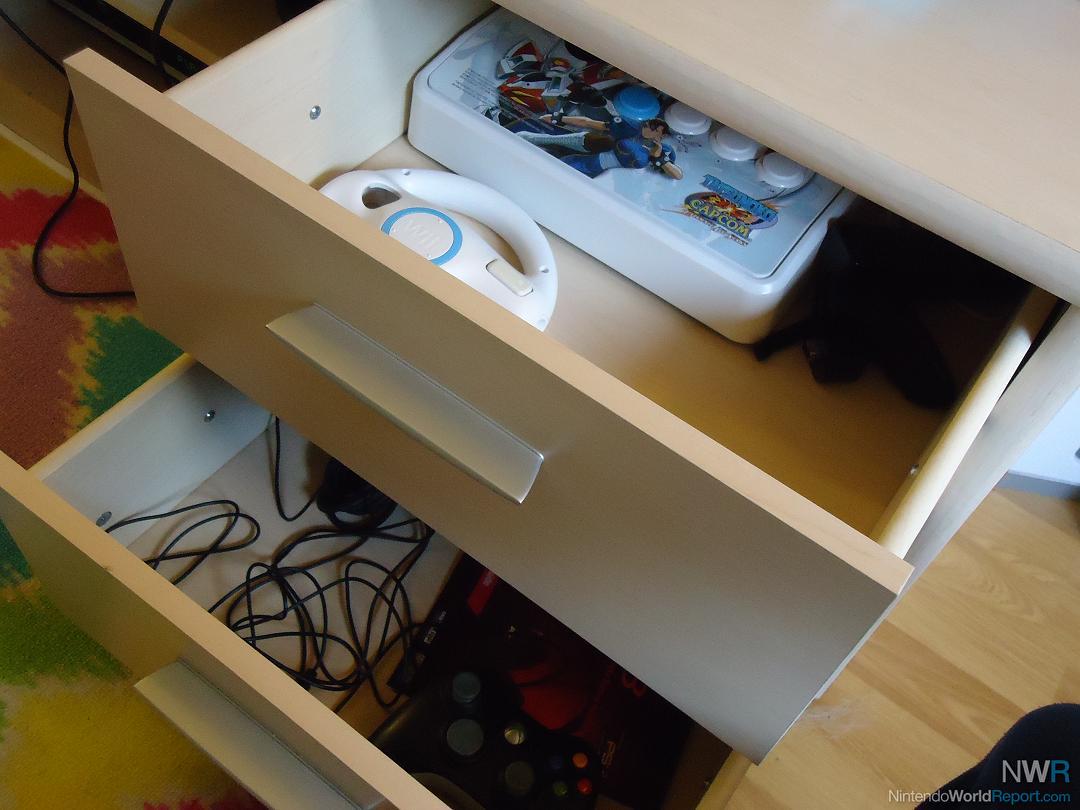 The other side featured...well, I guess the Wii accessories that wouldn't fit in the previous drawer. The bottom drawer housed my Xbox 360 controller, my extra PS3 controller, and my rarely-used Turtle Beach headset stuff.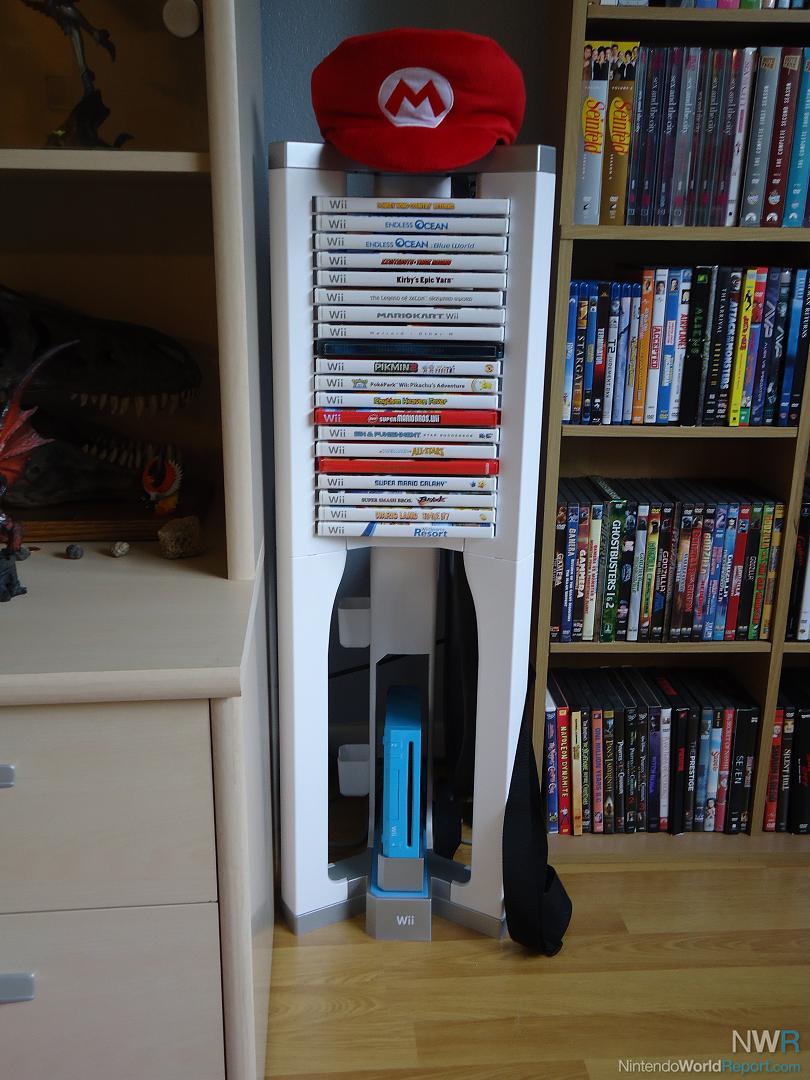 Where did my Wiis live? Well, one was on this awesome tower. Which beccame something of an eyesore after two years. It might be the Mario hat.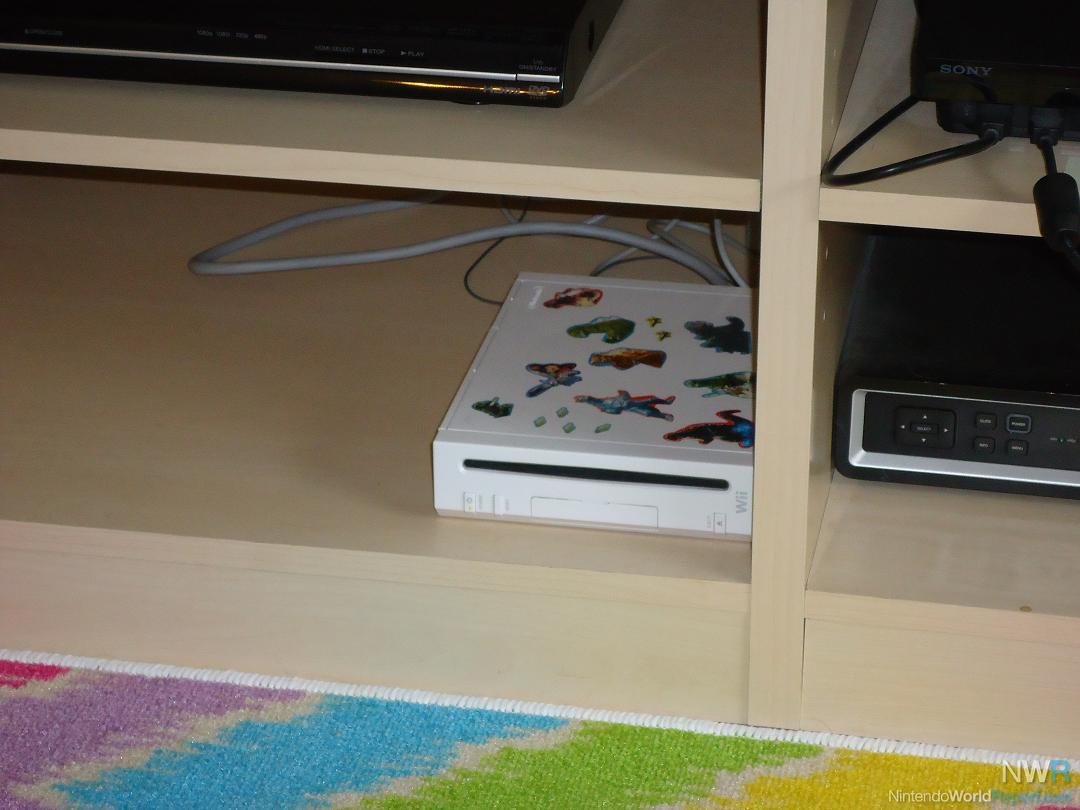 My launch Wii was relegated to this space, which was a huge WASTE of real-estate. Do notice the Godzilla stickers decorating the system. In my zeal to beautify my entertainment center, I removed those stickers. Out with the old, in with the new, right? Let me tell you, after five years, stickers become fused--at the molecular level--to whatever surface they're attached to. Elbow grease and Goo-Gone were employed to remove them.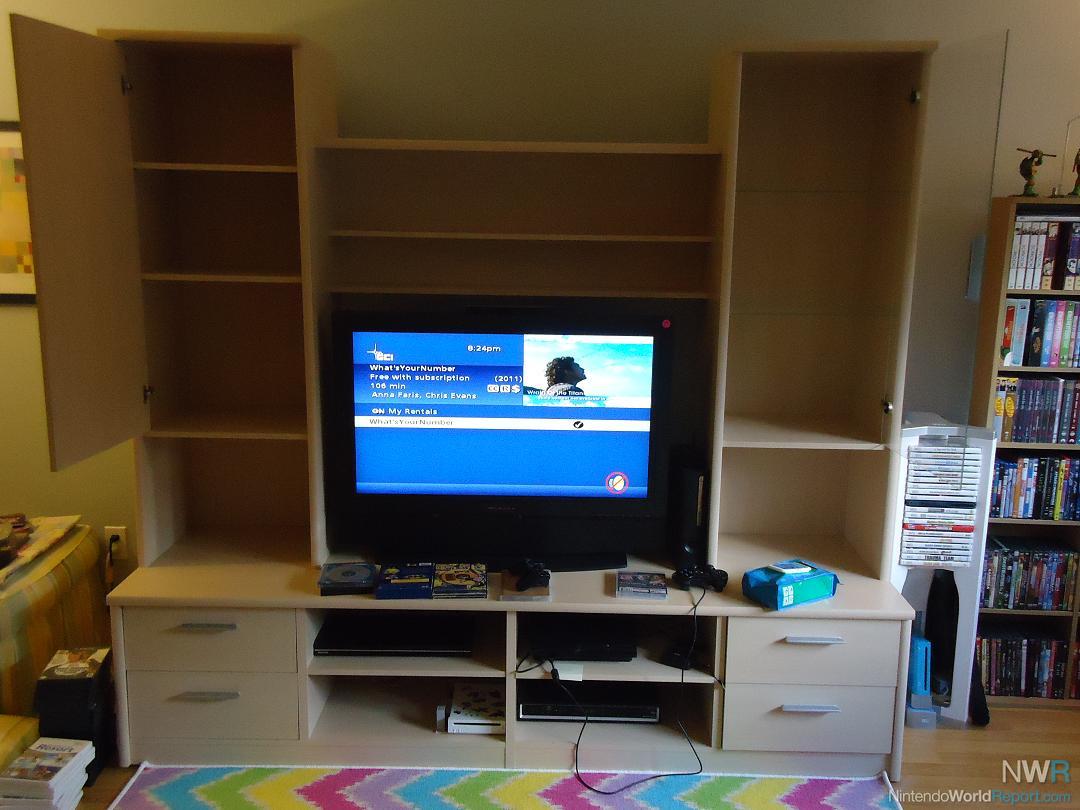 Once again, this is how it looked with everything removed. Do you have ANY IDEA how good it felt to be able to start completely fresh?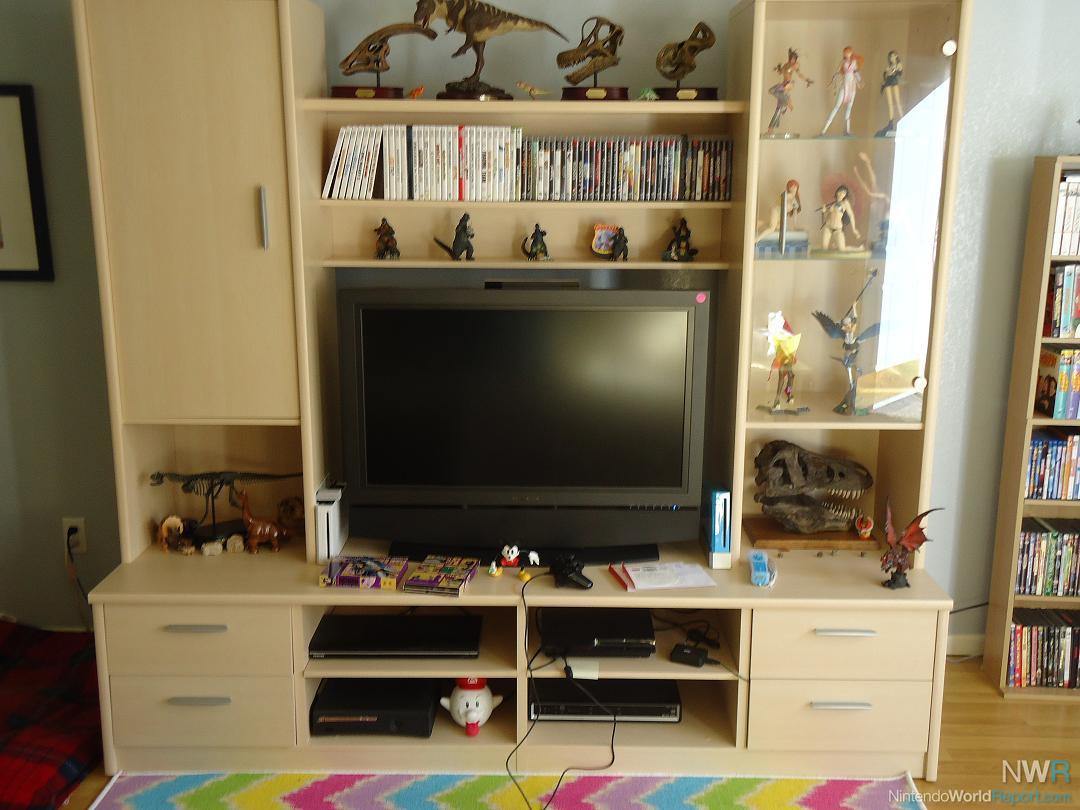 This is how it looks today, after about two hours of fretting over the placement of every single item. I'm actually continually tweaking it, even today. I think it looks far better.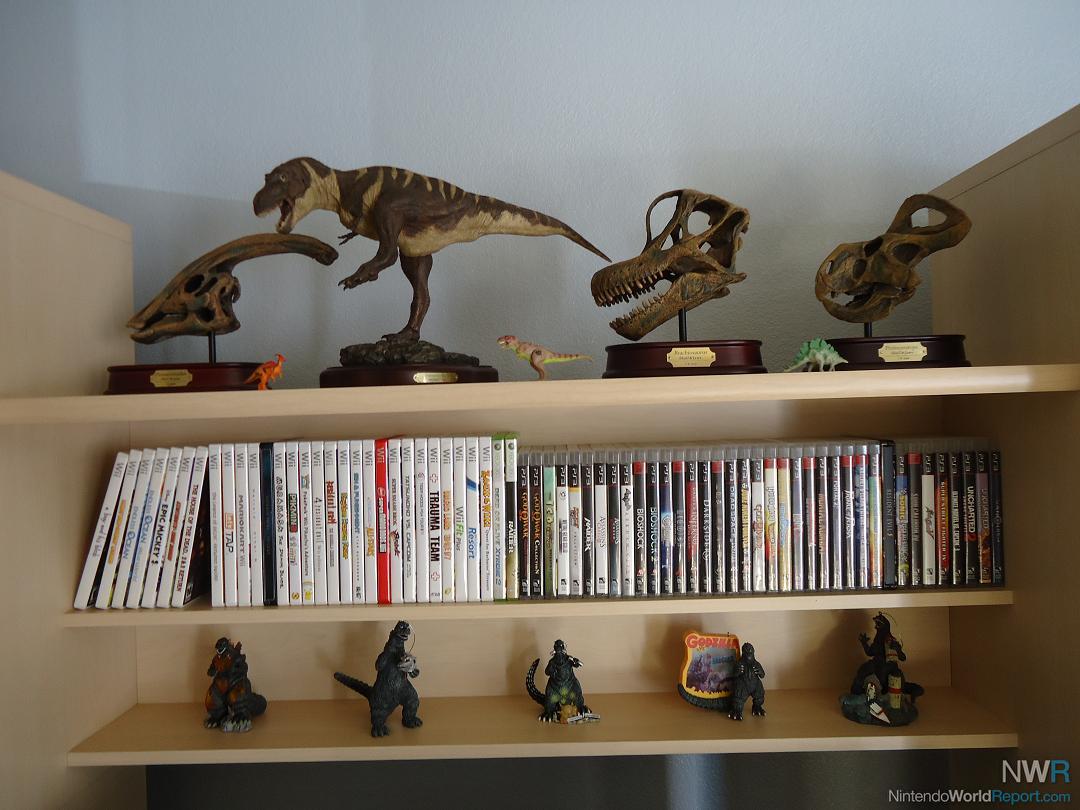 The dinosaurs have taken a central spot on the upper shelf. I think they look great on display like this. The only oddball is my Michael Trcic tyrannosaur, which is NOT a skull. But it is gorgeous, isn't it? I got it at my first SVP conference on sale. Notice also that only "modern" console games are on the game shelf, and that I've removed all the Wii games that were on that stand. Now they're all together, and I'm sure they're appreciative of that.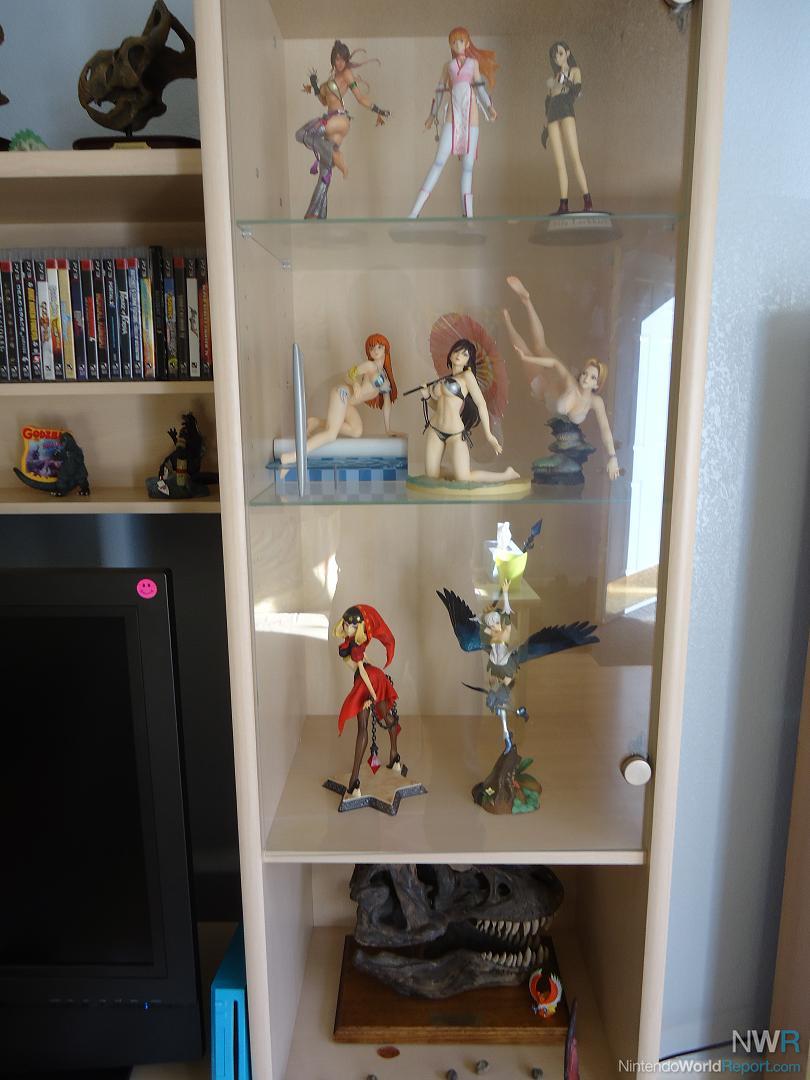 I was finally able to move some of "the girls" out to the entertainment center. It's been a goal of mine for years--they've been competing for space on our bedroom dresser, and I'm quickly running out of real estate. So a compromise was reached: the "gaming girls" would move onto the entertainment center, at least while my wife is away at grad school. Can you name them all?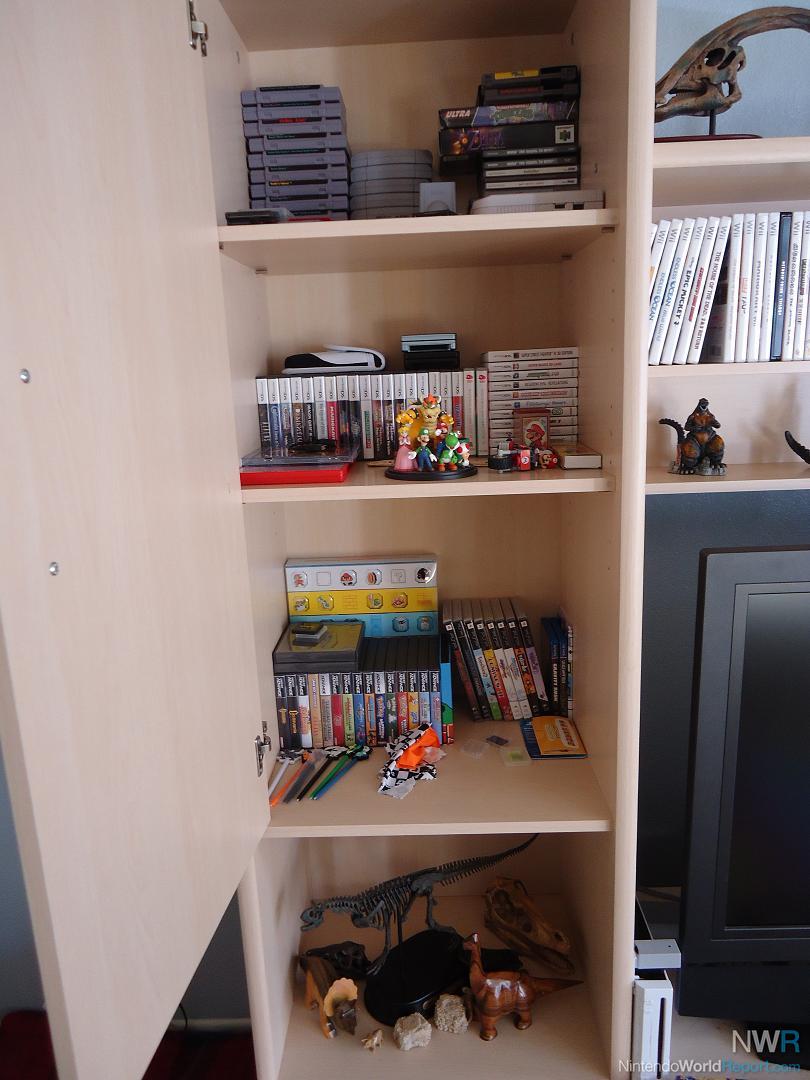 The opposite cabinet is actually more filled with stuff than it was before, but in a way that actually makes sense. If I can find the nerve, I may actually put all my DS and 3DS cases in storage, since my two Club Nintendo 18-Game Cases kind of make them redundant.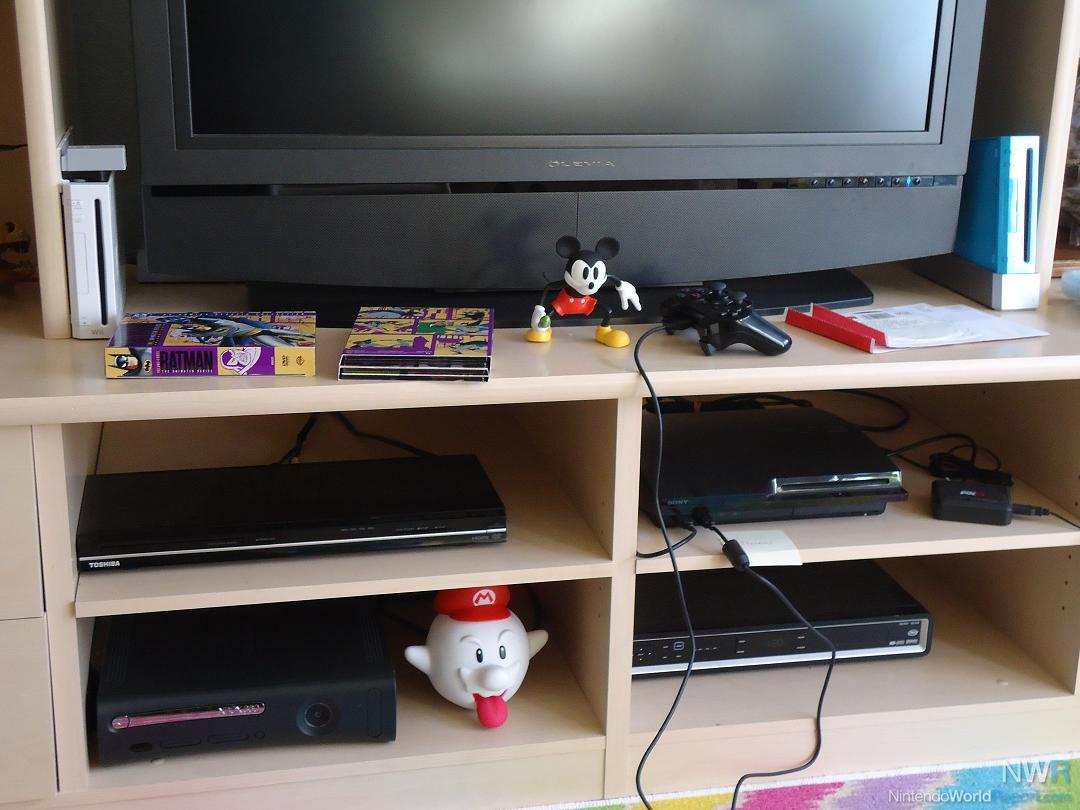 The Wiis now flank the TV, which results in, you guessed it, SYMMETRY! My heart is filled with pride. The Xbox 360, which sees about as much play time as my original Game Boy, now occupies the space once partially filled by the launch Wii. MUCH better use of space, yes?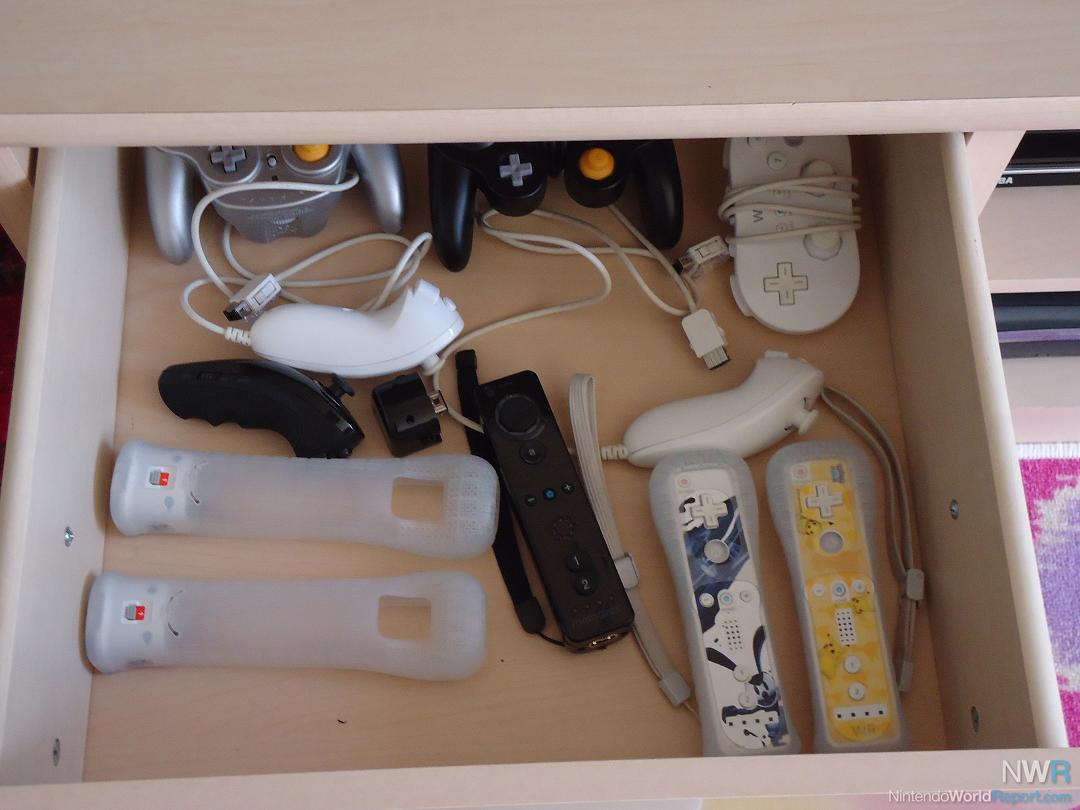 As for the drawers, they haven't changed too much. The upper-left drawer now houses LAUNCH WII accessories, including the original Pro controller, my GC controllers, and the original Wii Remote Plus dongles.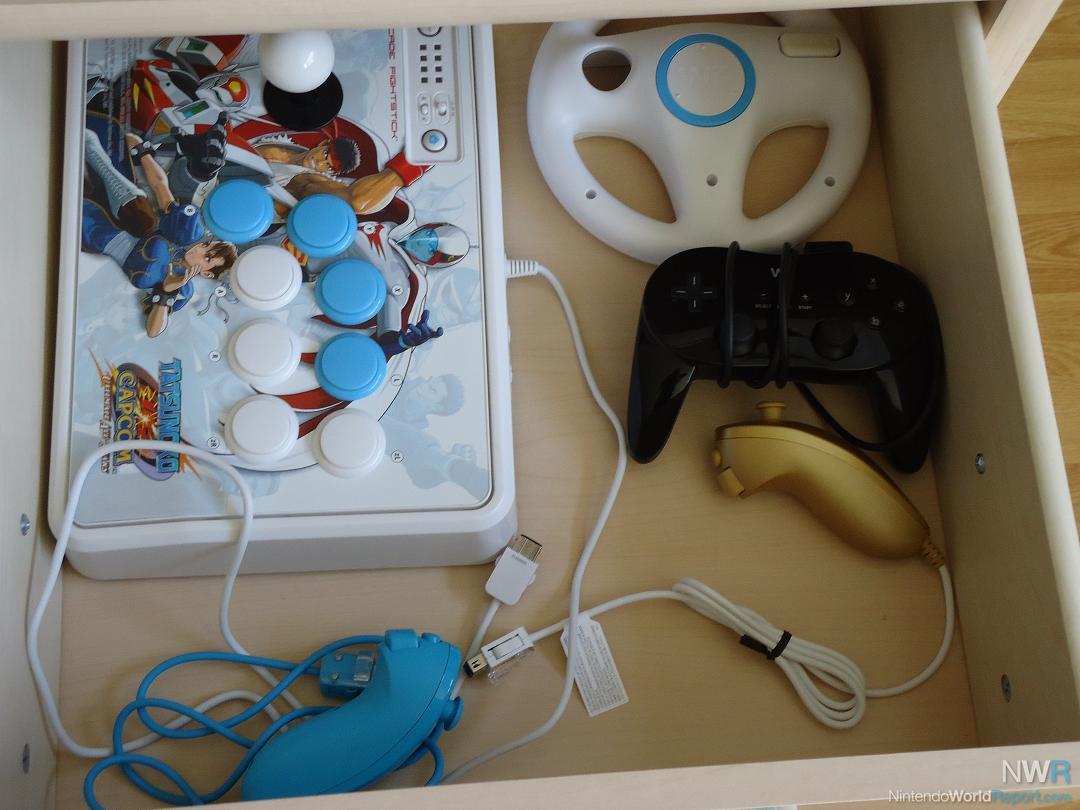 The upper-right drawer houses accessories I'd actually use today, including my Tatsunoko fighting stick and the Wii Wheel.
So there you have it, folks. It took a few hours, but I think it turned out great. What do you think? Any ways I could further improve this setup? Heck, post pictures of YOUR setups! I'd love to compare.