Its rough spots are still rough, but Treyarch's "movie game" is a personal GameCube classic.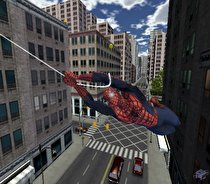 E3 footage of Beenox's new Amazing Spider-Man game showcased a returning mechanic I've been particularly keen to check out: an open New York City, and the hero's ability to traverse it without restraint. While this more recent style of open-world web swinging is certainly interesting in its flashy and cinematic presentation, I'm reminded of the game that first allowed me to experience the freedom of leaping, diving, and crawling about the Big Apple, Treyarch's Spider-Man 2.
The foundation of my love for the game, as I mentioned, is its ambitious mapping of Manhattan, and the power the player has to swing with ease from one end to another. Spider-Man's boring commute, in other words—the real responsibility that comes with his power—is my childlike delight.
Spider-Man 2 wasn't the first game to give Spidey a certain degree of high-altitude access to the city (the first movie tie-in had a level of leniency in certain missions), but it was the first to do it right. Its success comes from several areas, most notably Spidey's size and movement. In the first movie game, Spider-Man was a lanky figure, taking up a lot of center screen real estate (similar to the way he's positioned in The Amazing Spider-Man). In 2, he's a lithe little thing, with quicker movements and better response time.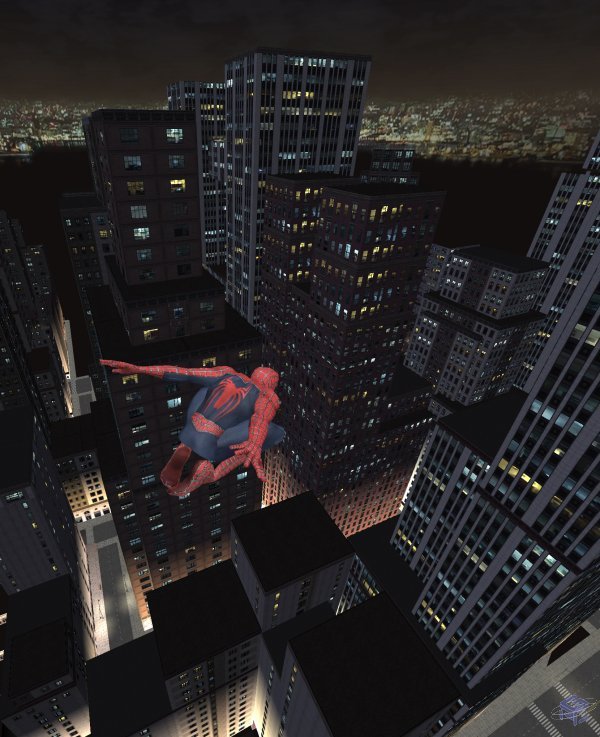 That fact that 2 features a realized NYC also allows for greater exploration into transportation animations (two webs at once!); the game accomplishes this by allowing players to charge jumps as they see fit (resulting in different levels of explosiveness in movement) and by making the L button an acceleration modifier in all respects; hold it in when running, and Spidey ups the pace of his dash; give it a tap near the bottom of a swing, and he'll accelerate up the other side. Animations change accordingly, providing the wall-crawler with a repertoir of leaps and falls. Drop some Hero Points in any of the city's handful of walk-in stores, and you can unlock an array of useful and aesthetically memorable movement tools, like the ability to combo swings into wall runs, a mid-air web zip, and some mid-fall ballet moves.
The city's proportions also effect some better parts of the experience. It may be ugly as sin now (the introductory cinematic, a POV web swing through New York, is an acrobatic tour through truncated draw distance, conspicuous pop-in, and lethargic texture loads), but the convincing layout of Treyarch's New York is pitch perfect for lengthy tours around the urban environment. When I showed the game to my uncle, who had flown in from the city for a summer visit, someone suggested we locate his apartment building in the game's world. It was a joke, until we more or less did it.
The placement and design of buildings comes off as fairly architecturally realistic (if not especially detailed), but is also spaced to facilitate comfortable movement. Spacious without being barren, and populated without being cramped, the urban environment allows the player to cover vertical distances as quickly as they would horizontal. In its design, Spider-Man 2's New York is similar to a one-off public setting in a Tony Hawk game—a semi-realistic locale, crafted for maximum activity and minimal interference. In each instance, the level design encourages a constant search for new and better routes to exploit—not for points, in this case, but to maintain a natural, uninterrupted action across entire city blocks.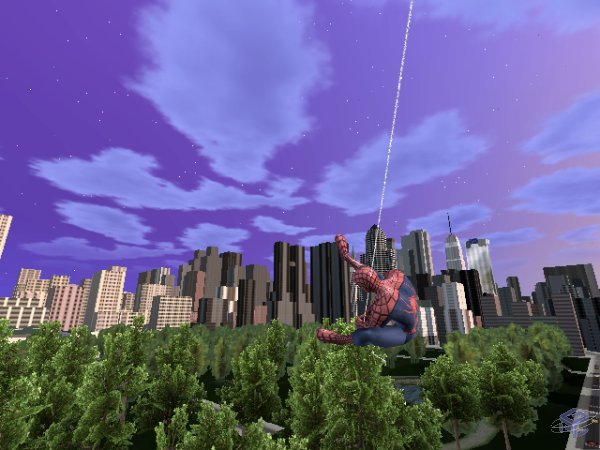 What partially tarnishes my memories of Spider-Man 2, unfortunately, is just about every other part of the game. Too many missions require you to strut through tasks in the life of Peter Parker. These start early, and return often. The game's combat works (and carries a shimmer of the style associated with the recent Batman games), though even when Spidey's fully upgraded, the game's uses of it grind any enjoyment of that area down quickly. The main story missions are tolerable at best, and the side quests are repetitive and ill-suited to the powers of the character and design themes of the game.
Any time these hangups become overwhelming, though, I can always simply disengage, throw up a web line, and lose myself in the skyline.