How will Nintendo minimize risk in online communication?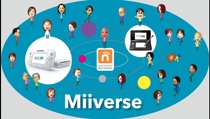 In today's Nintendo Direct Pre-E3 presentation, Satoru Iwata revealed Miiverse, a new online communication system for Wii U gamers. The system enables players to communicate with each other in various ways, including Twitter-like text messages, video chat, Swapnote-like drawings, through posted screenshots, and other forms.
The expansion of built-in inter-player communication functionality will enrich gamimg experience; however, it will carry various risks, one of which is obviously spoilers. As for screenshot posting, Iwata said they are preparing a countermeasure against spoilers, though it is still unclear how such protection will be implemented. Perhaps each screenshot has information (such as where in the game it was taken), and according to the information, screens containing potential spoilers (such as those taken in a game's later parts, or those taken by others in a part you have not seen) are filtered out, which would be smart.
There will be further potential risks in Miiverse. Considering that few Nintendo games support voice chat, it was surprising that Wii U will also enable us to video chat with Wii U friends, many of whom players might have never seen offline. Like many existing video chat services, there's always the strong possibility that your fellow interlocutor could show up naked, which would be the last thing Nintendo want to see. I look forward to seeing how Nintendo tries to avoid such risks.