A lefty explains why Skyward Sword's "right-handed-only" option is a lie, dumb, and not an issue.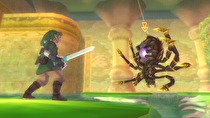 I've seen some talk on Kotaku and IGN about a left-handed mode in The Legend of Zelda: Skyward Sword. As a lefty, all of this talk is of interest to me. I was frustrated when Art Style: BASE 10 had no left-handed option. I was scared by the prospect of the 3DS not being lefty-friendly. So, when rumors of this MotionPlus-enabled Zelda came around, I was a little worried.
Then, the game was playable at E3 2010. I played the demo with the Wii Remote in my left hand despite Nintendo representatives telling me not to do so. I had no issue with wielding the sword in my left hand even though Link held his sword in his right on screen.
The next year, I played the Skyward Sword demo with the MotionPlus-enabled controller in my left hand again at E3 2011. Once again, zero issues. At a Nintendo event in New York City recently and at New York Comic Con, I played the Skyward Sword demo again. No issues.
Basically, don't let anybody scare you, lefties. Skyward Sword's lefty-friendly to the point that it doesn't need to be discussed further. There's a slim chance that, over a long period of time with the game, it could show some worrisome signs. I doubt it, and I'll be sure to keep all my fellow lefties in the loop should I run into any issues. But, after around an hour or so with Nintendo's ultimate Wii game, there nothing to worry about.
Now Nintendo, about that Kid Icarus: Uprising game...