Resident Evil's first 3DS game doesn't let you reset the save data. Is this a big deal?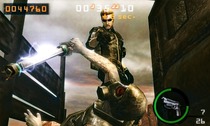 I could spend this time talking about the excellent Operation Rainfall and their grassroots movement to get Xenoblade and The Last Story to North America. We've done that already. Instead, I'm going to talk about smaller issue related to this week's (read: the next month and a half's) big release: Resident Evil: The Mercenaries 3D.
In that game, which I'm currently in the process of reviewing (goes up tomorrow at 8 a.m. PDT), you can't delete your save file at all. That's correct; there is no way to reset the save data on the game cartridge at all. Now, most people's reaction to this is rage. "Crapcom's ripping us off! Screw them!"
Personally, I'm not bothered by this. The potential problems with this, from a gamer's perspective, is that the unlock system can't be reset, and the high scores are always there, meaning a previous owner could get insane scores you could never reach or something. How does this ruin the game at all? I honestly fail to see how it does, as the game experience is undeterred. The unlockables do offer a nice carrot, though, and maybe for some that is a great loss, but I don't see how it is a large problem. Also, this isn't a linear game. It is a high score-based game. It's not like there is a story to spoil.
While I don't side with publishers to the degree that I'll avoid used games (sometimes it is much cheaper and the only way to get a game), but I understand why they'd want to combat it, even if it is as passive aggressive as this. Publishers make no money on used games, so they need to incentivise consumers to buy new. It's a tricky line to tread, because you don't want to do something that will upset your fans, but at the same time, you have to make money.
If you agree or disagree with me, let me know in the Talkback below.
This week should have a bunch of reviews. J.P. and Zach are looking at some DSiWare games. Matt Blundon's Wii Play: Motion should be up soon, as well. I'll be letting you know about Mercenaries 3D, Transformers 3DS, and DualPenSports. Josh already laid out his thoughts on Mystery Case Files. He should be writing about the latest Transformers DS game soon, too. Zach's rounding out our Transformers coverage with a look at the Wii game based off of the new movie.
We'll also have constant coverage on the craziness surrounding Xenoblade, and all the news we can get up.
Also, if you made it this far, please write mailbag-at-nintendoworldreport.com and feed the 'bag so next week in this space, I can answer your questions.