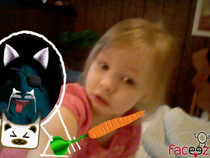 In Faceez, you take a picture of your face, a friend's face, a celebrity's face, or a face that you draw on graph paper (the game's word, not mine), and then it is transformed into a "Faceez," which is an awkward-looking circle picture frame with arms and legs. The creature animates, and after you take the photo, you can watch as it performs a few standard animations, such as eating popcorn or reciting lines from a play. The whole trick to it is to properly line up the picture, which is easy thanks to the on-screen guides. Even if you screw up this step, you can still get amusement from watching someone's chin talk, so it's win-win.
From here, you can edit the Faceez even further. There are three primary options: Mix, Disguise, and Animate. In Mix, you can mix and match different parts of your creations. So, to reference Nintendo, you could theoretically take Mario's nose, mix it with Link's eyes, and have the rest of the amalgamation be Samus' stoic Faceez.
The second option, Disguise, allows you to pick out different hats, glasses, noses, mouths, and more. Some of them animate, and they range from the normal (a pirate hat) to the bizarre (a background that makes you look like the Mona Lisa). Lastly, you can animate your character and give them a prop. My Faceez at one point wore a gold chain with a dollar sign on it and a beanie while holding a bottle of champagne and doing the moonwalk. Also, he had a moustache.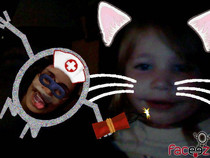 When you're all done toying around, you can create a screenshot of your new friend using a stock background or a picture on your DSi, and once saved, it'll be transferred into your DSi Photo Album. So, for those keeping score at home, yes, you can upload these things to Facebook. That's where all the pictures in this article came from. Unfortunately, you can't accurately translate the title's goofy animations through a static image. The animations are the highlight, and it's unfortunate that you can't show them to your friends any other way than with the physical system
For 200 Nintendo DSi Points ($2), Faceez is perfect if you want a silly application to take pictures of people and then animate them ridiculously. To be less specific with my recommendation, if you enjoyed the image-creating tool in Super Smash Bros. Brawl or you wish you could do more with your DSi Camera, then this is worth your $2.