by Zack Kaplan - 12:33 pm EDT
Total comments: 7 Source: NeoGAF
Sakurai speaks the words you did not want to hear.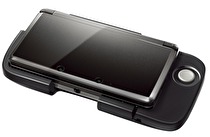 Super Smash Bros. for 3DS does not support the Circle Pad Pro due to hardware constraints, specifically, the amount of processing power the add-on requires.
Smash Bros. and Kid Icarus: Uprising director Masahiro Sakurai explained the problem in a recent issue of Famitsu magazine: "Supporting the... Read more...