It will change up their voices too!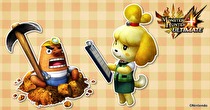 Animal Crossing costumes for your Felyne companions will be coming to Monster Hunter 4 Ultimate. This was announced during Tokyo Game Show 2014 and detailed on Capcom's Unity blog.
Your Felynes will be able to transform into Isaballe (clipboard included) and Mr. Resetti. These costumes will fully cover the bodies of the cats and will also change their voices into the proper Animal Crossing squeaks. This special collaboration will also be available for European and North American players.