Reports suggest that Nintendo's marquee Wii U game will launch on the Friday before Thanksgiving.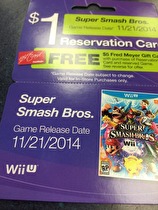 Super Smash Bros. for Wii U is very likely set to come out on November 21 in North America and Europe, according to a variety of reports, including our own retail sources.
Aside from the November 21 date being the same Friday before Thanksgiving day that Nintendo of America launched Super Mario 3D World, The Legend of Zelda: A Link Between Worlds, and Mario Party: Island Tour last year, multiple retail leaks and sources point to November 21 being the day for Super Smash Bros. on Wii U to debut. In America, it is also the same day that Pokémon Omega Ruby and Alpha Sapphire are set to come out.
Furthermore, ads from a French Nintendo website, as well as retail chain Fred Meyer have been leaked showing the Novermber 21 date, adding further credence to this rumor.
In Europe, Omega Ruby and Alpha Sapphire are slated to launch on November 28. However, that mirrors their release schedule last year, where Super Mario 3D World wound up coming out a week after A Link Between Worlds.
While this all seems very likely, we will have to wait for an official confirmation from Nintendo before we start planning our launch day plans.