Final Fantasy, Cooking Mama and more this week!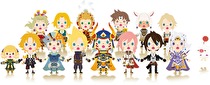 This week on the Download, things heat up as the weather cools down! At least in some areas, anyway - it's still well over 100 degrees in California. Oh well! In terms of releases this week, Cooking Mama is back in town, Legend of the River King 2 and Wild Guns are out on VC, and there's even a new Final Fantasy out this week in Theatrhythm Final Fantasy: Curtain Call. That's a relatively tame name compared to other Final Fantasy subtitles I've seen lurking in the wild (what the heck is a Duscae?).
Wii U Downloads
Wii U Virtual Console
Nintendo 3DS Downloads
Secret Empires of the Ancient World
Theatrythm Final Fantasy: Curtian Call
Nintendo 3DS Virtual Console
Sales
The Super Smashing Sale is now into week 3. Check here to see which games you can get up to 39 percent off on.
Moon Chronicles and Mutant Mudds, two games from Renegade Kid, are now on sale through 10/2.
Starting on 9/22, Shin Megami Tensei IV, Conception II: Children of the Seven Stars and other Atlus games will be on sale in the Nintendo 3DS eShop.
Strike Force Foxx, Coaster Creator 3D and other Big John Games are on sale in the Nintendo 3DS eShop for up to 50 percent off through 10/2 . Classic Games Overload: Card & Puzzle Edition is $14.99 through 10/6 in the Nintendo 3DS eShop.
Demos
Super Smash Bros. for Nintendo 3DS