Part 1 of Dragon Quest X.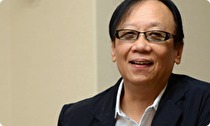 1. "Rather Than Easy to Use - Easy to Understand"
Saitō - I'm sorry for last time (※1). Today I've taken (Taichi) Inuzuka-san's (※2) feedback into account and come in more casual clothing.
※1 Last Time= In regards to "Iwata Asks 'Nintendo 3DS' Third Party Software Maker Creators, No.17: Dragon Quest Monsters Terry's Wonderland 3D"
※2 Taichi Inuzuka= Employee of Square-Enix Co. Ltd. Producer on "Dragon Quest Monsters Terry's Wonderland 3D."
Iwata - I see (laughs).
Horii - All three of us. (laughs)
Fujisawa - Does this look fit us? (laughs)
Saitō - Fujisawa-san was an hour late coming into work this morning because he went out and bought these clothes.
Fujisawa - As embarrassing as it is (laughs).
Saitō - Saying, "The photos will only come to about here (upper body), so I guess that's all I have to worry about." (laughs).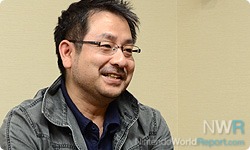 Fujisawa - Hey, hey - you don't have to reveal that much do you? (laughs)
Everyone - (laughs)
Iwata - Ok, well then, shall we begin?
Everyone - Yes.
Iwata - Today I'm going to ask about the long awaited "Dragon Quest X: Awakening of the 5 Tribes Online." We're finally just moments away from release.
Horii - It feels like the beta test (※3) just started, but here we are - time really does fly.
※3 Beta Test= Test play of "Dragon Quest X" during development. Players are recruited from the official website, and through test play bugs and other problems are found and resolved.
Iwata - Indeed, I thought we were still a ways off from release, but before I knew it the release just creeped right up on us. It sure was quick. Technically it has been a long time, though. Today, more than anything, I'd like to ask, "Horii-san, how did you manage to change MMORPGs (※4), typically games with high barriers of entry, into something that anyone could play?" and "What happened during that process?" Although he needs no introduction, this is Yuji Horii, who works on the Dragon Quest series.
Horii - Thank you for having me.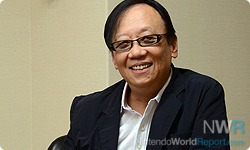 ※4 MMORPG=Massively Multiplayer Online Role-Playing Game
Saitō - My name is Saitō, the producer of "Dragon Quest X." Nice to meet you.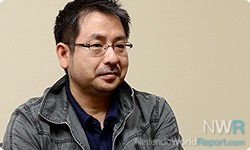 Fujisawa - I'm Fujisawa, the director. Thanks for having me.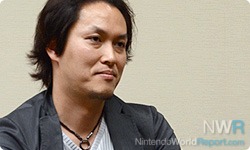 Iwata - Thanks again. To start off, Horii-san, was there any kind of experience or online game that pulled you in and made you decide to make Dragon Quest online?
Horii - I had played "Crossgate" (※5), which he (Saitō-san) had made, and "FFXI" (※6).
※5 "Crossgate"= MMORPG which began service in July 2001.
※6 "FFXI"= First MMORPG in the Final Fantasy series, beginning service in May 2002.
Iwata - The way Horii-san makes games, is that, taking from games he himself has played, he not only finds the essence of what pulls people into a game, he also cleverly reorganizes the parts that would confuse normal people and makes it into something anyone can play.
Horii - These guys have done a fantastic job of understanding that, and we've made a lot together.
Saitō - In a nutshell, one of the things we're always talking about is "rather than easy to use - easy to understand." For instance, usually menus would be easy to use and not have a lot of layers, but if their rhythm is good, it's okay for them to have a deep number of layers. That Dragon Quest feel comes from things being easy to understand, so that anyone can use them.
Horii - I personally never read manuals, so we tend to build the controls around the idea that you can figure out how to control the game based on your native instincts, even without reading the manual. Of course, it is helpful to have lots of different commands at your disposal, but to have them all available at the beginning tends to make things overly complicated and hard to understand, so I make lots of requests to pull back on that.
Fujisawa - Furthermore, online games are meant to be played for a long time, and because of that there tend to be a lot that have pursued ease of use to the ultimate degree, but by doing that you end up with quite a lot of information on screen.
Iwata - Which means that people might take one look at the screen and think, "I give up!"
Fujisawa - Yes. And in that case the impression that "This just isn't Dragon Quest" would become more potent, so I continually told the team two things: "Do not put ANY unnecessary information on the screen" and "Definitely don't put up any small text." To put it the other way, I felt that if in just one look at a still screen shot of the game you see big fonts and no unnecessary information on the screen, then people would feel at ease that "Ah, it's the same Dragon Quest I've always known."
Iwata - It's the same screen that we know from the very first Dragon Quest on the Famicom. Back then it was low resolution which meant that everything had to be as simple as possible, but now you can make things as small as you want.
Horii - The same goes for Hiragana, Katakana and Kanji. It's easy to write commands in Kanji, but as soon as it's in Kanji it automatically looks more difficult. But if it's in Hiragana it just feels friendlier.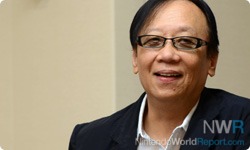 Saitō - Also, the main commands: "Investigate," "Tools" and "Equipment" and such. Normally we have four in two rows. This time around, though, up until very recently we kept discussing, "Wouldn't it be ok if it was 5x2?" In the end, though, we went with the usual set up.
Horii - When you're looking at too many commands in front of you, it just starts to feel like a bother.
Fujisawa - Right. So we decided, even if it meant having some fairly deep menus, "It's better to keep it the usual way."
Iwata - Logically speaking, 5x2 really doesn't seem that much different from 4x2, but when you look at it, it just feels completely different, doesn't it? By the way, what kind of development structure did you start out with for "Dragon Quest X?"
Saitō - When the "X" project began, Fujisawa-san was in the middle of dealing with "VIII" (※7), and before we even had any programmers, about three of us began brainstorming. Afterwards, we added a couple more people, which is when we had a retreat and the project began in earnest.
※7 "VIII"="Dragon Quest 8 Journey of the Cursed King." RPG release for Playstation 2 in November 2004. The eighth title in the Dragon Quest series.
Horii - We were discussing how much we should lower that barrier.
Fujisawa - Right. We talked deeply about how an online Dragon Quest should be. For instance, "What should we do if some players have the same name?" But in the end I think that kind of debate was just what we need to search for answers to that philosophy of just what Dragon Quest should be. The beginning was just finding answers for these basic things like "Is it ok for Dragon Quest if you can't pick a name you like?"