When demon hunting and teenage drama collide.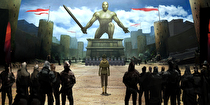 From the outset I was resistant to review, or even write about with any manner of authority, Shin Megami Tensei IV. Like many people I had always had an attraction to the series (with demonic pacts and turn-based battles, what's not to love!?), but approaching most of the games is about as easy as scaling a 12-foot brick wall. The games aren't known for coddling newcomers, and even veterans of the series still find themselves treading carefully. But, an hour into Shin Megami Tensei IV and all that faded away as the spectacular combat and black-as-night story settled in.
For a game of this scale to be crammed into a 3DS cartridge to begin with baffles me. After around sixty hours with the game I still wasn't sure what all the stats and numbers meant, but I did know one thing: I was having a hell of a good time. For me, the late PlayStation era is when JRPGs really hit their stride, and Shin Megami Tensei IV continues that grand tradition, while adding in some leniency for more casual demon-hunters.
Traversing the world and having conversation after conversation with demons never ceased to entertain me. Even after I had accounted for all the various conversation archetypes that the game used, they would still occasionally throw a verbal curveball at me to keep me on my toes. Not to mention, the staggering amount of demons rendered in excellent detail meant there was always something new to discover.
As an introduction to the series, it worked well. I'm excited for whatever comes next in the Megaten world, and I have my fingers crossed that the next main entry will be on a Nintendo platform. After both this game and the excellent Fire Emblem: Awakening earlier this year, I'm downright excited for the still-vague Shin Megami Tensei X Fire Emblem.
I had been craving a nice, long JRPG for quite some time, and Megaten IV filled the niche nicely. It wasn't a monumental breakthrough in gaming, but it offered solid combat and an interesting story. The game did tend to get a little long in the tooth near the end, and the objectives weren't always clear, but what's a JRPG without a little confusion and extended dialogue? The game also served as a proving ground for DLC on 3DS games. It existed in a fashion previously (challenge stages in New Super Mario Bros. 2), but this was the first time DLC manifested itself in a more traditional fashion on the system, including outfits, quests, and more.
In a way, Shin Megami Tensei IV broke new ground not only for its own franchise by giving trepidatious gamers an easy starting point, but it also moved the 3DS forward as a platform by proving it can handle things like DLC and full-length console-style RPGs. Home consoles be damned, Megaten IV proves that we can get the same kind of experience in our back pockets.