What is big, round and consumes your life? That's right: the world of Animal Crossing.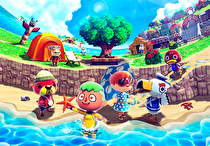 So slow, so deliberately aimless… and so very addictive. The relentless draw of Animal Crossing: New Leaf almost defies logic; for many, it was the fourth time they had plundered the depths of this supposedly-iterative life simulation franchise, yet it serves as a lot of people's most-played Nintendo 3DS game by a considerable margin.
How has the game accomplished this feat? To the credit of the aptly-titled New Leaf, it took the series in a significant new direction of increased potential for interaction with the world and greater choice for what the player could do. It may not sound like an especially radical change, but placing the player in the role of town mayor suddenly opened up a host of possibilities for carving out a unique identity for themselves – not only in how they could shape the look of their own game world, but also in how they chose to go about that.
Want to be a Bell hoarder? Or an interior decoration specialist? Or a public works creator? Or a collection completionist? More than ever, Animal Crossing: New Leaf allowed the freedom for any or all of this, and it gave players the power to really impact the development of their town in major ways. What's even more impressive is that the game manages this whilst intentionally keeping its systems and inner workings a secret. In most videogames, such opaque objectives and progression would be maddening, but with New Leaf, it is pulled off perfectly, to offer up that pure feeling of discovery when something unexpected happens, like a new shop in Main Street, or a surprise visit from an out-of-town animal.
Add this 'play at your own pace' mentality to the year-round calendar of events, many of which have been subtly altered from previous titles in the series, and you have a winning combination of evolving game elements to keep you coming back again and again. In essence, New Leaf enables the player to create and grow a distinct town through whatever means they want. Meanwhile, the wealth of sharing features, whether it is the online play, the Dream Suite, the Happy Home Academy or even the ease of distributing in-game photos through social media, allows for the propagation of everybody's creations, providing a constant feedback loop as each individual player gleams inspiration for their own game.
For its enduring presence on 3DS since launching in the summer, Animal Crossing: New Leaf earns a well-deserved spot in our top 10 of 2013, and it will occupy us for months to come. After all I, for one, will see in the New Year in the town of Jabbawok, the place I brought to life over the last six months. What will you do on New Year's Eve?