Warning: Spoilers to one of the year's best games.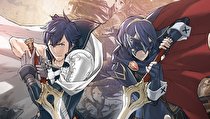 In early 2011, the Fire Emblem franchise was on its last legs. There was a fiercely loyal fan base, but it was far from being a household name (unless you count Marth and Roy in Super Smash Bros.). It had been four years since the last original Fire Emblem game was released. Then some rumblings started echoing throughout the fandom about a new game coming. As one of the members of the aforementioned fan base, my excitement was immediate, but even my highest expectations were dwarfed by Awakening's final product.
Once the game was released it took the word by storm. Offering a fantastic story spanning different timelines, a slew of intimidating enemies and an impressive amount of heart, the game breathed new life into the franchise. It also offered an entirely new level of strategy that no one had ever expected. For the first time in the series, characters could have children and those children would have stats and abilities dictated by their parents. Players now had to not only think of the enemies confronting them, but the allies they would soon meet. The weapon triangle, the class hierarchy, and the impressive list of abilities all help keep the game interesting from level to level. All of these aspects required strategies spanning the entire length of the game.
The gameplay was intuitive and engrossing. Battlefields were numerous and always kept battles interesting. The 3D models of the characters were beautiful and music was used perfectly. Watching the characters rough the terrain around them and strike down their foes in glorious 3D was a sight to behold. Even in 2D the visuals were impressive. In my opinion, the localization of the voices was the best part. For the first time we could hear the characters as they fought their way through massive armies and as they found love amongst the war that surrounded them.
Even when the initial campaign ended, the game was far from over. Nintendo started offering DLC episodes where the game's army could take on armies of the past Fire Emblem games. Defeating these enemies could yield greater weapons, abilities and allies that would come into the main game. The extra content isn't essential to the game, but it offers an entirely new level to already great title. With the final DLC that was released, The Future Past, players even get to glimpse the dystopian future that the children hail from. The levels of strategy, story and gameplay all culminate into a perfect mixture that we call Fire Emblem: Awakening, which I whole heartedly believe is one of the best games of 2013.