Link finally got back to his roots in our first pick of 2013.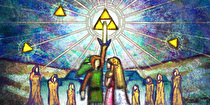 What started out as a remake of Link to the Past ended up being the most welcome Zelda in years, celebrating the seemingly lost appeal of the 2D games. Link Between Worlds is still, basically, a remake of Link to the Past, but with the new ability to smack Link against walls in 2D to find his way to greener pastures. The game also introduces the strange but welcome ability to rent or buy classic Zelda items at your leisure and take on most of the game's Dark World dungeons in any order.
And yeah, that old high of finding a new item in each dungeon is certainly diluted, but worry not—each dungeon hides a new piece of equipment that, while not required to beat the game, will make your journey easier.
The game looks wonderful as well, certainly looks better in motion than in screenshots. And there's plenty of sidequests to keep you busy—finding 100 squidbabies (and powering up your items for doing it), all those Heart Pieces, lots of minigames (including an unfortunate baseball game) and Hero Mode once you beat the game, which is just the right amount of difficult to make the adventure feel new again.
Link Between Worlds is the most progressive Zelda in years while harkening back to a form that the series had seemingly forgotten. It's definitely worth your time—we were certainly fans.