We hunt ghosts and Bulborbs today.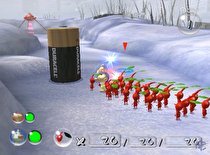 Game: Pikmin 2
Developer: Nintendo
Publisher: Nintendo
NWR Score: 9 (Jonathan Metts)
Why is this game worth honorably mentioning?
It takes everything about the original and makes it better: more types of Pikmin, more areas to explore, and more treasures to collect. The new purple and white Pikmin open up new types of puzzles, and the addition of Olimar's companion Louie allows for twice as many Pikmin out and about at one time. By switching the goal from rebuilding your ship to collecting as much treasure as possible, the game becomes more open-ended and has the opportunity to be more thoughtful than the frantically paced original.
Why didn't it make the Top 10?
While J.P. and Andy, who both picked it as the best game on the system, fought very hard for it, they couldn't drum up enough support among the staff. Some simply preferred the original, which was a fairly different game and occupied a more significant place in the GameCube's library. Others, like Site Director Neal Ronaghan, never gave much time to one of the best games in recent memory, which isn't surprising given the relatively poor sales it received.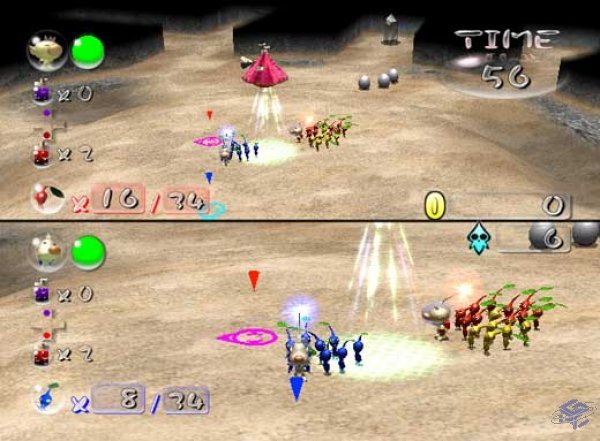 What is your favorite moment in it?
There are so many great things about Pikmin 2, but my favorite moment is when it all comes together — you've managed your time and Pikmin just perfectly to solve all aspects of an environmental puzzle and finally bring the elusive treasure on board your ship. This game really ups the complexity of the puzzles, and it makes it feel that much more rewarding when you bring something home. - J.P. Corbran
---
Game: Luigi's Mansion
Developer: Nintendo EAD
Publisher: Nintendo
NWR Score: 8 (Mike Hrusecky) 8.5 (Michael Cole) 8.5 (Rick Powers) 7 (Billy Berghammer)
Why is this game worth honorably mentioning?
This was THE launch title for the GameCube, that must-have game that initially sold systems. It was also Nintendo's first official game to star Mario's underappreciated younger brother, and developed his character to new heights of individuality. His overall wimpiness seemed to have been borrowed mainly from the '90s Super Mario Bros. Super Show; in games before this, he really didn't have any personality to speak of. With fantastic controls, realistic physics, and a fun, kooky atmosphere, Luigi's Mansion was incredibly enjoyable and expanded the Mario universe in ways that compete with spinoffs the likes of Wario and Yoshi. Not to mention, the Poultergust is one of the coolest tools ever used in a Mario game.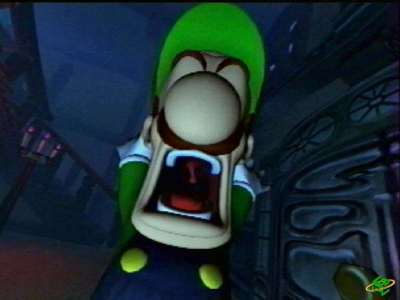 Why didn't it make the top 10?
Once you figure out the various puzzle styles, everything becomes rather predictable and the whole game can be completed in the space of a few hours.
Unless you're trying to find every last piece of treasure for the best ending, or acquire a perfect gallery of ghosts portraits (getting a golden picture frame and a flawless image is actually quite a challenge), there's not much to do once you've finished the game.
What's your favorite moment?
In the PAL version of the game, the Hidden Mansion replay option is heavily altered. The entire mansion is mirrored to disorient you, the ghosts are much tougher and the stronger varieties appear much more frequently, and the whole place is so dark that you can barely see anything except Luigi's flashlight beam. One particular moment of awesomeness is during the Boolossus boss battle. In Hidden Mansion mode, the entire battle arena is frozen over with ice. How does Luigi cope? By hopping on top of Poultergust and riding it like a buggy, using the suction and blower as forward/reverse propulsion. It was completely unexpected and entirely changes the way the battle is fought. - Andrew Brown