Rotting flesh never looked so pretty.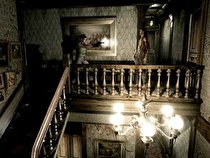 Game: Resident Evil
Developer: Capcom Production Studio 4
Publisher: Capcom
NWR Score: 9.5 (David Trammell)
Why is this game worth honorably mentioning?
The Resident Evil series set the groundwork for many games to come, defining a genre and introducing us to a cast of memorable characters in an awesome plot. It was a love letter to zombie films, and did things the right way, you know, before every single video game decided zombies would be a neat addition. But the game that started it all was known as much for its incredibly bad acting and ridiculous script as it was for the creepy hallway-navigating, monster-dodging gameplay. Resident Evil on GameCube, often called the REmake by fans, changed all that.
The graphics were updated to some of the best in the entire console's lifespan, the dialogue was all redubbed with competent actors, the storyline tweaked to better flow with the other games in the series and correct future plotholes in the series' chronology. There was even an additional story added featuring a near-unbeatable monstrosity leftover from experiments done to the daughter of the old mansion's architect. New areas were added, new lighting and shadow techniques were used, new bonuses, modes and unlockable content were added. Everything from the original game was improved on by 100%, turning the game from a B-grade cheese fest into a respectible and creepy horror story.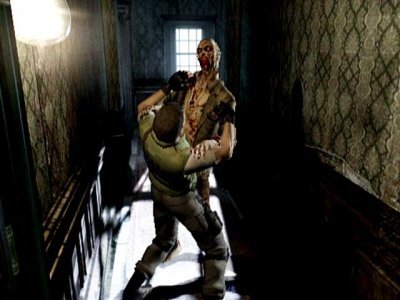 Why didn't it make the Top 10?
While this game received almost unanimous praise and critical acclaim and sold over one million copies, it just seems to fall under the category of "The GameCube has just so many awesome titles that we couldn't fit it into the top 10". That, and the ground-shaking awesomeness of Resident Evil 4 outweighed the original game by just a smidge, and it seemed unfair to fill two slots in the roster with games from the same series.
If there was one complaint, it would be with the new, unlockable "One Dangerous Zombie" mode. In this, the ill-fated S.T.A.R.S member and demolitions expert Forest appeared as one of the undead attackers. The bad news is that he's surprisingly spry for a corpse, and his body is packed with enough explosives to level the entire mansion. Fire off even a single shot at him and it's Game Over. He pops up at regular intervals throughout the first half of the game, and things get frantic when he appears in the same room as regular enemies, making defensive fire a very dangerous business.
What could be so bad about such a fun and unique extra challenge to an already great game? Once you unlock ol' Forest, there's no way to turn him off. He's there in your game, FOREVER.
What's your favorite moment in it?
Rebecca's adorable cowgirl costume? The thrill of completing Invisible Enemy Mode? I think the most interesting new addition to the whole game was the Crimson Head Zombies. In this game, the zombies are undergoing constant mutation from the affects of the T-Virus. Even after they're shot down, this mutation is still taking place, and if a zombie is not disposed of properly, it will remain on the game's map in the exact place it died. After about an hour takes place in realtime, it will have completely evolved into an extremely aggressive, vicious and lethal creature that springs up off the floor, makes a mad dash towards anything living and slashes away with gigantic claws of doom.
The only way to prevent this from happening is to use a powerful enough weapon to completely destroy the zombie's head (aim up at close range, cross fingers), or to track down the scarce supplies of flammable liquids around the mansion, find the corpses where you left them and burn them to ashes before they rise again. The process of torching the zombies is not only detrimental to clearing out tight hallways and often-revisited areas, but it makes such a satisfying crackling sound and mini bonfire display that you want to find another body just to see it again. Anyone feel like a barbecue?