Check out what's happening over on Patreon including the latest Patreon Plays!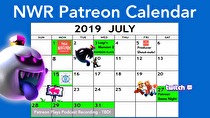 Hey everyone! It's July which means E3 is in the rear view mirror and we're pushing ahead towards Fire Emblem Three Houses, Dragon Quest Builders 2, Marvel Ultimate Alliance 3, and more! But that's not all going on, in fact we got plenty over on our Patreon! Here's a calendar with the important dates for the month including our latest Patreon Plays which will feature Luigi's Mansion New Moon!
Remember just a dollar gets you access to exclusive episodes of Talk Nintendo Podcast and Radio Free Nintendo each and every month as well as access to our Patreon Only Discord channels! Please consider supporting us if you aren't already and thank you to all of you who already do!