Come and join us for a fun night of online multiplayer gaming.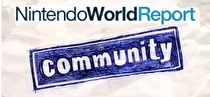 Nintendo World Report Community Night is back this coming Tuesday, September 11, with the fun kicking off at 10 p.m. Eastern/7 Pacific/2 a.m. UTC. As we've been doing lately, the players will choose what will be played, so make your case in the TalkBack below or in the chat for your favorite online Nintendo game. Is there an old Wii or DS game you've been aching to play online, or a 3DS game we haven't picked in a while? Try and recruit other players here!
Do you like this new approach for Community Nights? Would you rather they be on a different day of the week? Please leave feedback in the TalkBack.
We will be coordinating the event in our chat room. Having trouble? You can also connect with a dedicated IRC client. Server: irc.browsingtheinternet.com Channel: #nwr