by Karlie Yeung - 7:59 A.M.
Source: (http://www.officialnintendomagazine.co.uk/article.php?id=20233) (ONM UK)
Total Comments: 7
Green, blue, and yellow launching next week.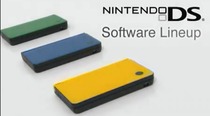 The Nintendo Conference DS software line-up video opened opened by showing several colours of DSi models.
Three of these colours will be available in Europe from October 8. The green, blue and yellow colours will be released additions to the DSi XL range.
Nintendo of Europe also released an updated schedule for the holiday season.
DS New DSi XL colours - 8 October Professor Layton And The Lost Future - 22 October Pokemon Ranger: Guardian Signs - 19 November Golden Sun: Dark Dawn - 10 DecemberWii Wii Party - 8 October Flingsmash - 19 November Donkey Kong Country Returns - 3 December Mario Party 2 (Virtual Console) - TBC December