Two of those imports being Nintendo games.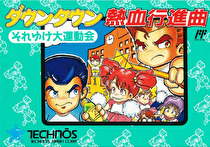 The retro libraries for the basic tier of Nintendo Switch Online have added four titles, though it may be more accurate to refer to them as Famicom and Super Famicom updates.
Downtown Nekketsu March Super-Awesome Field Day (1990 - Famicom) is a four player action sports title that is one of the most beloved titles in the extended Kunio-Kun franchise. It has been previously re-released on Switch as part of the 2020 Double Dragon & Kunio-Kun Retro Brawler Bundle.
Joy Mech Fight (1993 - Famicom) is one of the last Famicom releases from Nintendo before the transition full time to the Super Famicom, and was known as both the first fighting game from Nintendo after Urban Champion and for possessing some of the Famicom's highest quality audio and video.
Kirby's Star Stacker (1998 - Super Famicom) is a Super Famicom remake of the 1997 Game Boy puzzle game, in which Kirby and the friends from the Dark Matter trilogy have to clear fields of stars.
Quest for Camelot (1998 - Game Boy Color) is the sole game in this update wave that previously released outside Japan. The overhead action title is based on a poor-performing 1998 animated movie of the same name from Warner Bros., and was developed with assistance from Nintendo despite being published by the late Titus Interactive.