Some new partnerships included in the stream.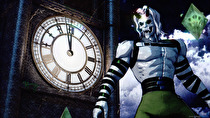 Annapurna Interactive announced a group of new titles and platforms today, including new details and announcements of four Switch games.
Neon White, the action title revealed in February's Nintendo Direct, unveiled a new gameplay trailer and reconfirmed the game's release window as this winter.
Space exploration title The Outer Wilds was also reconfirmed for Switch release by the end of the year. A new expansion was also announced for its existing platforms on September 28: it is not known if the Switch release will include the "Echoes of the Eye" pack.
A Memoir Blue was revealed for the first time: developed by New York-based developer Cloisters Interactive, it tells a story of a mother and daughter through memories repressed and cherished. The intro trailer is here: no release window was provided.
Annapurna will also publish Storyteller, developed by solo dev Daniel Benmergui. A literal story creator, Storyteller will provide characters, settings, and moods to create new stories or twist old ones. Trailer here.
Among the developers Annapurna announced agreements with were Outerloop Games (Falcon Age) and Jessica Mak (Everyday Shooter, Sound Shapes on PlayStation platforms). Titles and platforms were not revealed.