None of them star Nolan North, as far as we know.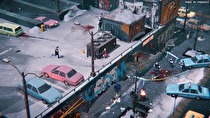 Saturday's final presentation of the day was the Future Gaming Show, which did feature several announcements and updates for Switch titles.
New Games
Morbid; The Seven Acolytes is a horror-punk action RPG with elements of the work of HP Lovecraft, and a wide variety of weapons. It is slated for a 2020 release.
Ghostrunner, the first person platformer with a variety of environments and a speedrun mode, will release on Switch as part of its multiplatform release this fall.
Curve Digital announced a pair of follow-ups to prior Switch releases: Space Crew is a sequel to 2018's Bomber Crew with many parodic elements of sci-fi series and a September release date, while the show closed on Serial Cleaners - a pluralistic sequel to the 2017 cleaning game set in the 1990s. It will launch in 2021.
Team 17 announced Neon Abyss, a level-based run and gun game that prominently featured a fishing minigame to "break up the monotony" for launch on July 14.
Wales Interactive showed first gameplay for horror title Maid of Sker, whose Switch launch is slated for October.
Updates:
Modus's time travelling action RPG Cris Tales confirmed a November 17 release date.
Skater XL confirmed a high school stage for the July release.
Remothered: Broken Porcelain was dated for August 25.
Rogue Company, the third person shooter from Hi-Rez Studios revealed in a 2019 Nintendo Direct, is slated to launch this summer and is claiming 60FPS in handheld mode on Switch.