Chill out with the Norse on the last day of summer.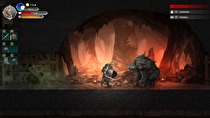 The developers of the Braveland trilogy will be bringing their next RPG to Switch in a few weeks.
Ellada have announced Niffelheim for console release including the Switch on September 20. The side scrolling RPG stars a slain viking warrior who has to obtain his soul from the land of Niffelheim in order to ascend to Valhalla.
Having already release on PC, the console version will feature additional content and the ability to repair items which weren't in the PC version.