Watch that first step, it's a doozy.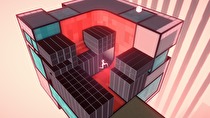 The gravity warping platformer Etherborn finally has a release date.
The Kinda Funny Games Showcase has announced that Etherborn will release on Switch July 18. Etherborn is a 3D exploration game whose platforms have odd gravity, somewhat reminiscent of Mario Galaxy.
One of the first games funded by the 20th Century Fox indie game fund, Etherborn was announced for Switch earlier this year and has had more than four years of development.