If you're like Donald who can't win to save his life, you still might get the gold.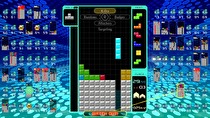 The Tetris 99 Cup will return this weekend, with more opportunities to bring home the (999) gold (coins).
Running from Friday at 9 a.m. EDT to 2:59 a.m. Monday morning, the tournament will award 999 My Nintendo Gold Coins ($9.99) for top players. The second competition will institute a points system based on finishes during the play time, with 100 points being equivalent to a win, and the top 999 scorers receiving the money.
The victorious players will receive their prizes the week of April 28.