Did somebody order a EA game?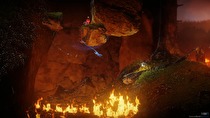 Yoshi isn't the only creature in the Nintendo sphere who can get woolly.
Unravel Two will be available on the eShop starting March 22. A part of Electronic Arts's partner program, the game features a pair of red and blue creatures named Yarny who try to climb their way through large worlds.
Originally, the game released on PlayStation 4 and Xbox One after EA's Play conference last June.