This Wind Fish 'bout to get woke!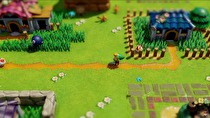 Nintendo loves to throw a good "one more thing" at the end of their Directs and today was no different. Capping off today's reveals was a full remake of the GameBoy classic, The Legend of Zelda: Link's Awakening.
Sporting all new 3D visuals in a similar style to Link Between Worlds and what appears to be an anime-inspired opening cutscene, Nintendo seems to be sparing no expense to bring the 8-bit classic into HD. This will be the first 2D Zelda game to release on a home console since The Legend of Zelda: Four Swords Adventures released on Gamecube in 2004.
No specific release date was given beyond 2019.