Courtesy of Super Rare Games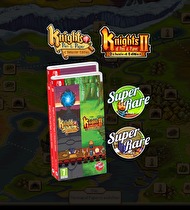 Super Rare Games (SRG) keeps on doing their thing with their newest set of releases Knights of Pen and Paper, as well as it's sequel Knights of Pen and Paper II. This will be SRG's 11th and 12th release, and will feature:
- Two fully assembled switch games, each with a (lick-able) cartridge
- Cardboard slipcover covering both games
- Two packs of trading cards
- Two exclusive stickers
- Two 8 page mini artbooks
NWR Staffer David Lloyd (@FilteredGamer) reviewed the first installment giving it an 8/10, saying "Knights of Pen and Paper is a title where the enjoyment comes from the experience of the journey and not the destination. The quests and battle were fairly standard, the majority of my enjoyment came from the onslaught of '80s and '90s culture that blended perfectly within the game. From the ability to hire Master Splinter as the dungeon master, to purchasing Johnny 6 as a pet, there's plenty to keep a smile on your face."
Knights of Pen and Paper Double Pack (Switch) will be available to preorder this Thursday, January 24th at 10am PST / 1pm EST / 6pm GMT exclusively at Super Rare Games' website