(The end of the work day fills you with determination)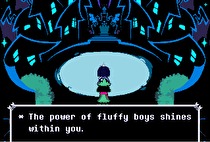 Undertale's mercurial creator has released a PC Demo that may portend a full follow-up to his smash hit.
Deltarune has been released for Windows PCs today, which is a game with a similar art style to Undertale. Some Windows users will have to bypass Defender to install the game.
It is not known if this is a standalone, though "something else" was promised when Undertale was originally funded via Kickstarter. There is also no word on if Fox's next project will come to Switch.