The wackiest relay race ever.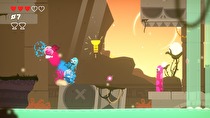 The alien jogging team known as the Joggernauts will be trotting into the Switch in a couple of weeks.
The co-op stage-based jogging game will release on October 11, for US$14.99. Previously, the game was set for a summer release.
Joggernauts involves swapping the color-coded leader of the team based on the obstacles ahead in order to complete the courses.