Yes, that one.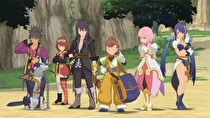 The first Tales game for the Switch is already celebrating an anniversary.
Bandai Namco has announced a remastered version of 2008's Tales of Vesperia, which will come to all consoles including Switch this winter. The game was initially announced at Microsoft's E3 game presentation.
The remaster will include the full 2008 release, as well as content from the PlayStation 3 version of the game that was never localized and dual audio.