For the superfans, you can get both in one box.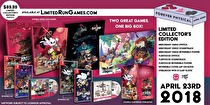 The promised physical releases of Flinthook and Mercenary Kings: Reloaded will be available early next week.
Limited Run Games, who is handling the distribution, will put both games up for open preorder on Monday (April 23) at 10 a.m. Eastern time. The preorders will be open for two weeks.
There will be two options for ordering the games: individually for US$29.99 each, or in a "Tribute Treasure Box" edition for $89.99 that includes both games, their soundtracks, posters, and a special steelbook that holds two Switch cards.