Grasshopper Manufacture's third game in the punk franchise will feature a whole new story and varied game worlds to fight through.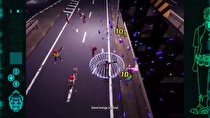 Travis Strikes Again will come to the Nintendo Switch in 2018. The third game in Grasshopper Manufacture's rebellious No More Heroes franchise, its indie-derived inspiration will be incorporated by making protagonist Travis Touchdown fight his way through a variety of game worlds that he enters, including Action games, Racing games, or even puzzle games. At the end of each "game" chapter though, outlandish bosses will exist (a No More Heroes series staple) to challenge the player while providing extra helpings of the franchise's style and character.
It's confirmed that the adventure mode will tell a whole new story, and later this year players will get to experience that either by themselves, or via a new co-op mode.