See Tommy, this is what we need.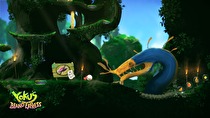 Some more details have emerged about the latest title from Team 17.
A new trailer (found below) for Yoku's Island Express has announced even more new powers for the postal pinball title. Among the included abilities are a party horn for mail calls, a vacuum for dealing with slugs, and the submarining Dive Fish.
There is still no release date for the game, but the team at Villa Gorilla are aiming for the end of June currently.