A full load of fixes for the tropical exploration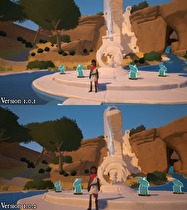 RiME had a rough start, but a new patch aims to resolve a lot of the issues.
The 1.0.2 patch, available now, lists multiple fixes. A full list is available on the developer's website, but among the major refinements include resolving exploits that allowed for stage skipping, stabilizing the framerate, and a sharper image resolution.
Our review by Neal Ronaghan cited slowdown and washed-out graphics as issues with the game, which the patch purports to resolve.